Megane Bridge (Meganebashi) [
眼鏡橋

]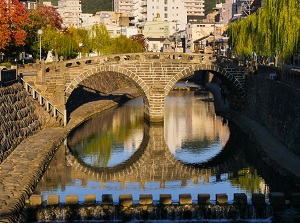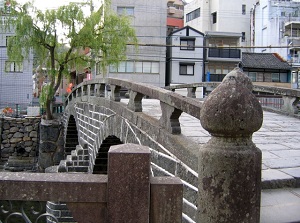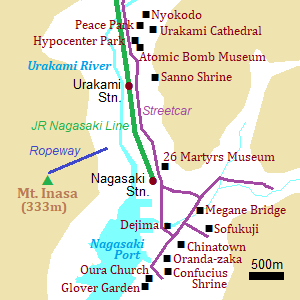 Megane Bridge is an old stone bridge over Nakashima River flowing through central Nagasaki city.
In Japanese, it is called Meganebashi.
It is about 1.3 km southeast of JR Nagasaki station.
"Megane" means "eyeglasses".
The bridge has two arches, so their reflection in the water create the image of a pair of glasses.
There had been some bridges across the river.
But it had been often dameged by flood.
So, the chief priest of Kofukuji temple near the river invited the stonemasons from China and constructed some stone bridges in 1634.
The bridges except Meganebashi had one arch.
Most of the bridges were destroyed by the great flood in 1982, but only Meganebashi remained.
Unfortunately, the half part had been destroyed.
The restroration was completed in 1983.
Now the bridges with original shape are only Meganebashi bridge and Fukuro Bridge about 100 meters downstream.
Other bridges has been rebuilted.
The attractive shape makes Meganebashi bridge popular.
The length of the bridge is 22 meters and the width is 3.65 meters.
How to get here
By street car with route No. 4 or 5, get off at Meganebashi stop.
Hotels around Meganebashi
Other Tourist Attractions in Nagasaki Prefecture
Nagasaki city
Other areas in Nagasaki Prefecture