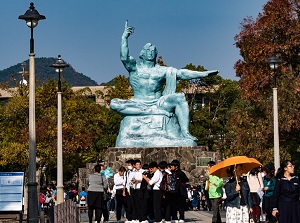 Peace Statue in Peace Park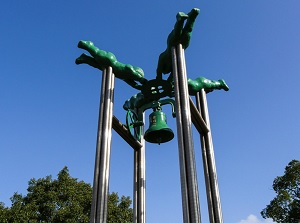 Bells of Nagasaki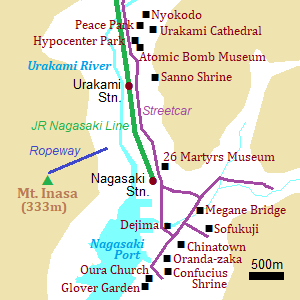 Peace Park ("Heiwa Kôen" in Japanese) is located about 3 km north of JR Nagasaki station.
In a broad sense, it includes Hypocenter Park and Nagasaki Atomic Bomb Museum to the south of this park.
This park was opened in 1950, 5 years after the evil A-bomb was dropped and the World War II ended.
In 1955, Peace Statue (平和祈念像) was unveiled in commemoration of 10 years of A-bombing and became the symbol of this park.
It was created by Kitamura Nishimo (1884-1987, a Japanese sculptor born in Nagasaki Prefecture).
The height of the body is 9.7 meters, and the height of the pedestal is 3.9 meters.
The right arm pointing sky means the threat of A-bomb.
The left arm stretching horizontally means the peace.
And the closed eyes means praying for the victims of A-bomb.
In the park, Peace memorial service for atomic-bomb victims has been held on August 9 every year.
The mayor makes a peace declaration and it is sent to the leaders of nuclear nations around the world.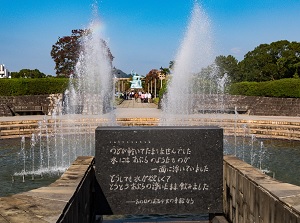 Spring of Peace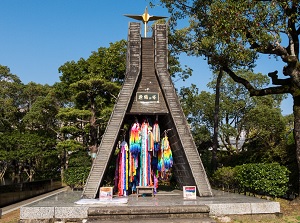 Bells of Nagasaki
In the park, many other monuments are set up.
Bells of Nagasaki (長崎の鐘) was set up in 1977.
They are rung when the moment of silence at 11:02 (the time when the A-bomb was dropped).
And there are Spring of Peace (平和の泉) and Orizuru Tower (折鶴の塔).
In addition, there are the monuments sent from 15 countries in the world around the park.
How to get here
By street car with route No. 1 or 3, get off at Heiwa-koen stop.
Hotels around Nagasaki Peace Park
Other Tourist Attractions in Nagasaki Prefecture
Nagasaki city
Other areas in Nagasaki Prefecture