Tourist Attractions in Fukushima city
Fukushima city is the prefectural capital and is located at northernmost part of Fukushima Prefecture.
The population of the city is about 280 thousand.
It is located on a basin, and there are some mountains more than 1,700 meters high to the west of the city.
This has been the central city in this area.
But it recently tends to become a satellite city of Sendai located about 70 km northeast of here.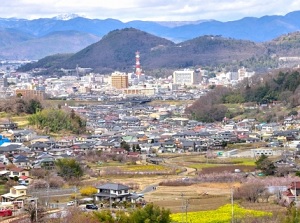 Fukushima city from Hanamiyama Park
From the 15th to 1873, there was Fukushima Castle in the current center of the city.
Fukushima had been a castle city.
But there are only a few ruins of the castle in the city.
Around the city, various fruits such as peach and pear are richly cultivated.
Yamagata-Shinkansen brances off from Tohoku-Shinkansen here.
Fukushima station has been an important junction from old times.
There are some spots like hot springs and parks in the city.
How to get here
From Tokyo, 1 hour and 35 - 40 minutes by Tohoku-Shinkansen.
Other Tourist Attractions in Fukushima Prefecture