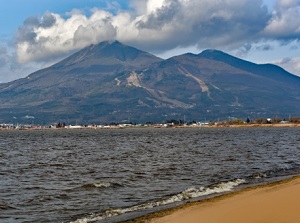 Lake Inawashiro & Mt.Bandai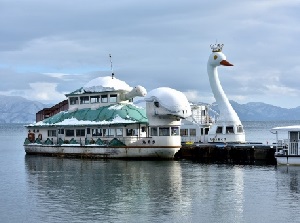 Unique pleasure boats of Lake Inawashiro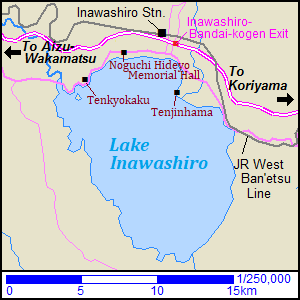 Lake Inawashiro is a nearly ovel lake about 14 km from north to south and 10 km from east to west.
It is located about 30 km west-northwest of Kooriyama city.
There is Mount Bandai (磐梯山) about 7 km north of the lake.
The surface of the lake is at an altitude of 514 meters.
It is one of the lakes located at the highest altitude in Japan.
And, it is about 94 meters deep.
It is said that it was formed by the water blocked many rivers by eruption of Mount Bandai volcano about 90 thousand years ago.
The water of lake is acid under the influence of the volcanos, and it contains low organic materials.
So the water is clear and only small fish are living in the lake.
Around this lake, we can enjoy marine sports and camping.
From early April to the middle of November, pleasure boats are operated.
The bording point is at Nagahama located on the northern coast.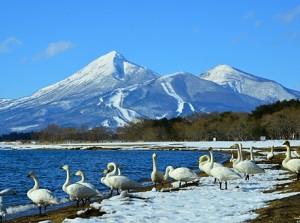 Swans in Lake Inawashiro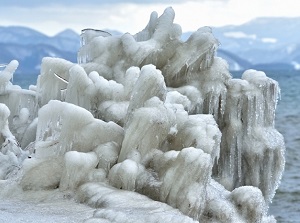 Shibuki-goori
In winter, more than 3,000 swans come flying on the north and east shore.
We can see the swans nearby even around Nagahama.
The swans and the place are designated as a national natural treasure.
And, in January and February, we can see Shibuki-goori (frozen splash) along the lakeside.
Splash is made by strong seasonal wind from northwest, then it covers the trees and rocks near the coast, and the water freezes like many art works.
Shibuki-goori is seen around Tenjinhama beach near the mouth of Nagase River.
It is on the northeast lakeside.
Hideyo Noguchi Memorial Hall (
野口英世記念館

)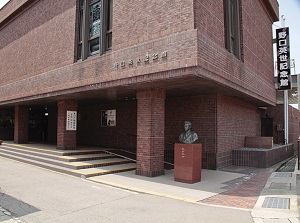 Hideyo Noguchi Memorial Hall
Photo by Fukushima Prefecture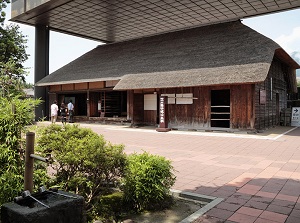 House that Hideyo Noguchi was born
Photo by Fukushima Prefecture
Noguchi Hideyo Memorial Hall is the museum about Dr.Noguchi Hideyo (1876-1928).
He was a worldwide bacteriologist and medical doctor.
It is located at the north coast of the lake and about 3 km southwest of JR Inawashiro station.
This museum exhibits real house of his birthplace and many articles related to him.
He was born near Lake Inawashiro in 1876.
When he was 1 year old, he fell down into sunken hearth in the living room, then he suffered serious burns to his left hand.
His all fingers had coalesced.
When he was 15 years old, he was given surgery.
So he got his original hand back.
At that time, he decided to become a doctor.
After that, he studied medical science and discovered many new pathogens as a researcher.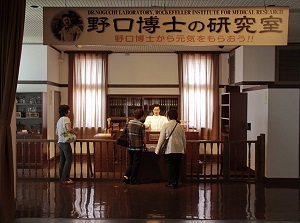 Replication of Dr.Noguchi's laboratory
Photo by Fukushima Prefecture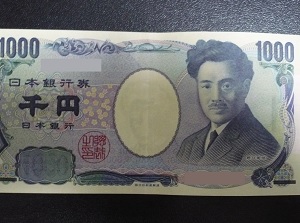 Noguchi Hideyo on 1,000 yen bill
He was nominated for the Nobel medicine prize more than once.
But when he was making research of yellow fever in Africa, unfortunately he was killed by the yellow fever in Ghana at the age of 51 in 1928.
His biography is one of widely-read books for children in Japan.
In addition, the portrait on the 1,000 yen bill in Japan is Noguchi Hideyo.
Tenkyokaku (
天鏡閣

)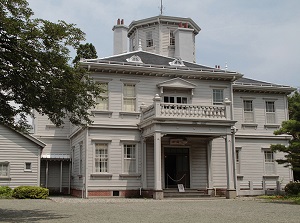 Tenkyokaku
Photo by Fukushima Prefecture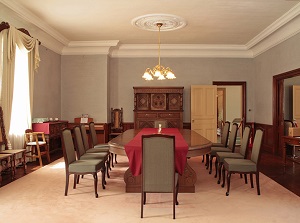 A room in Tenkyokaku
Photo by Fukushima Prefecture
Tenkyokaku is a villa of former Arisugawa-no-miya Family which is a branch family of the Emperor.
It is located about 6 km southwest of Inawashiro station.
It is also near Nagahama bording point.
It is a deluxe Western-style building, and was built in 1908.
Imperial family had sometimes rested here, but it was donated to Fukushima Prefecture in 1952.
Now it is available to the public.
How to get here
From Kooriyama to Inawashiro, about 35 minutes by rapid train of JR Ban-etsu West Line.
From Inawashiro station, by route bus, about 7 minutes to Noguchi Memorial Hall, about 11 minutes to Nagahama.
To Tenkyokan, about 10 minutes on foot from Nagahama stop.
Other Tourist Attractions in Fukushima Prefecture