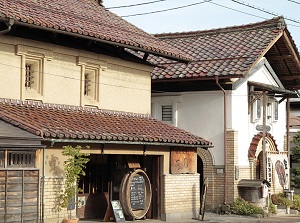 Shops in storehouse in Kitakata
Photo by Fukushima Prefecture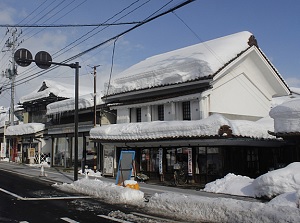 Kitakata in winter
Photo by Fukushima Prefecture
Kitakata is the small city located 15 km north of Aizu-Wakamatsu city.
It is well-known as the city of many old storehouses and tasty ramen.
Around Kitakata, rice has been grown, and shoyu (soy sauce) and miso (soybean paste) have been brewed using clean water from melting snow on the Iide mountains to the north since old times.
Therefore, a lot of storehouses for shoyu and miso have been built in the city.
In 1880, the city suffered from a massive fire, then most houses had been burnt down.
But many storehoses had been left in the ruins because they were built from stone or clay.
After that, Kitakata citizens had an idea that a dwelling and a shop are made in the fire-resistant storehouse.
Now there are about 2,600 storehoses in this small city, and we can find often such storehouses.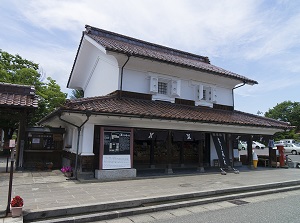 Kura-no-sato in Kitakata
Photo by Fukushima Prefecture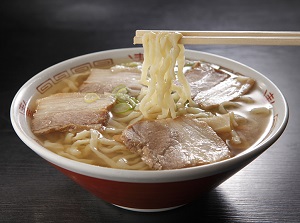 Kitakata ramen
Photo by Fukushima Prefecture
There is Kura-no-sato (蔵の里) about 1 km northwest of JR Kitakata station.
It is an outdoor museum of the traditional storehouse.
We can see seven storehouses and two private houses removed from various places in the city.
Another speciality of Kitakata city is Kitakata ramen.
Kitakata ramen is one of the three major ramens together with Sapporo ramen and Hakata ramen.
There are about 120 ramen restaurants in small Kitakata city.
Around the 1920s, a Chinese cook served the ramen at his stall in this city.
It became popular for the people, then many cooks learned the know-how for cooking.
The noodle is curly.
The clear soup is generally made of pork bone broth and shoyu (soy sauce).
And a few slices of barbecued pork are surely topped.
The main area of Kitakata is within 2 km from Kitakata station.
So you can explore the city fully on foot.
How to get here
From Aizu-Wakamatsu, about 17 minutes by local train of Ban-etsu West Line.
Hotels in Kitakata city
Other Tourist Attractions in Fukushima Prefecture