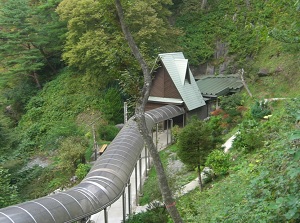 Entrance of Abukuma Cave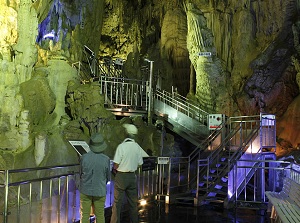 Abukuma Cave
Photo by Fukushima Prefecture
Abukuma Cave ("Abukuma Dô" in Japanese) is located about 30 km east-southeast of Koriyama city.
It is in Abukuma Mountains.
It is a limestone cave found in 1969.
Originally here was a quarry of limestone, and this cave was found during quarrying operations.
In 1970, a expedition team explored this cave, and they found the main cave.
Then, this cave was opened to the public in 1973.
Now, the length of known part in the cave is about 3,300 meters.
For visitor, the part of 600 meters is opened.
It is assumed that the limestone in this cave was formed about 80 million years ago.
And it is said that the varieties and the number of stalactite in this cave are one of the largest in Asia.
Some kinds of bat, salamanders, etc. are living in the cave.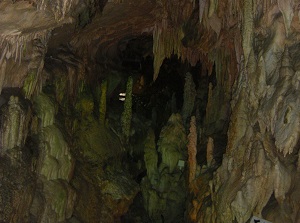 Stalactites in Abukuma Cave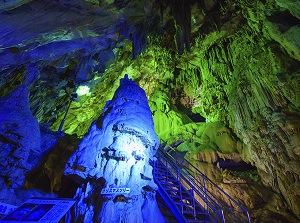 Big stalactites in Abukuma Cave
Photo by Fukushima Prefecture
As above, we can walk in the cave for 600 meters.
And there are the stairs of about 300 steps on the route.
The temperature in the cave is always about 15 degrees Celsius.
When you reach about 200 meters point from the entrance, "Expedition Course" branches. If you pay more 200 yen adding to the common entrance fee (1,200 yen), you can visit this course.
The course is harder than the main course.
You must pass through narrow cave, but you can see some unique scenery.
The lenght is about 120 meters.
By the way, the destoyed Fukushima Nuclear Power Plant is located only about 35 km east of this cave.
But, here was out of the area with serious radioactive pollution.
The quantity of radiation has already been stabilized to normal value.
Irimizu Cave (
入水鍾乳洞

)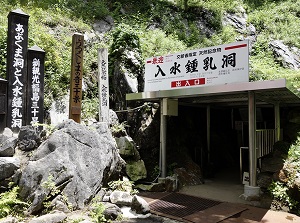 Entrance of Irimizu Cave
Photo by Fukushima Prefecture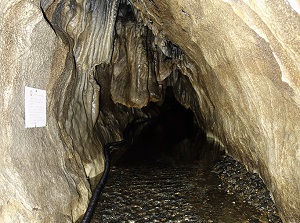 River in Irimizu Cave
Photo by Fukushima Prefecture
Irimizu Cave is also a limestone cave, and is located about 4 km north of Abukuma Cave.
The length of the cave is about 900 meters.
The rainwater fallen on the mountain has penetrated into underground, then the water is flowing through this cave.
So we must walk sometimes in the water with a flashlight or candle when we make an exploration of this cave.
For visitors, the three courses (A,B,C) are planned.
Each course are the round trip to a point in the cave.
"A course (150 meters, 550 yen)" is for beginners, "B course (600 meters, 700 yen)" is the course that we walk in some river, and "C course (900 meters, 4,600 yen)" is the hard course following a guide.
How to get here
To Abukuma Cave
Go to Koriyama by Tohoku-Shinkansen, then change to JR Ban-etsu East Line (The nickname is "Yuyu-Abukuma Line".)
From Koriyama, about 50 minutes to Kanmata station.
Then from Kanmata station, take a taxi.
(About 4km. There is no route bus.)
To Irimizu Cave The nearest station is Sugaya station one stop before Kanmata.
Then, from Sugaya station, about 2 km walk (30 minutes).
(There is no route bus and taxi.)
If you want to use a taxi, catch it at Kanmata station.
Hotels in Koriyama city
Other Tourist Attractions in Fukushima Prefecture