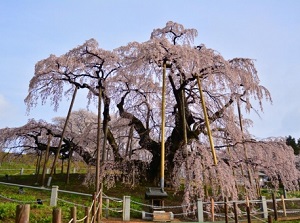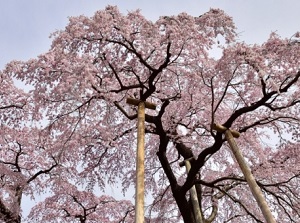 Miharu Takizakura is an old and big cherry tree in Miharu town.
It is one of Three Giant Cherry Trees of Japan.
(The other cherry trees are Jindaizakura in Yamanashi Prefecture and Usuzumizakura in Gifu Prefecture.)
Miharu town is located about 10 km east of Kooriyama city and is in a hilly area at the western foot of Abukuma mountains.
This cherry tree is over 1,000 years old.
It is a kind of weeping cherry (Shidare-zakura in Japanese), and is not the popular kind of Somei-Yoshino.
The height is about 12 meters and the circumference of a tree trunk is about 10 meters.
And the branches of the tree spread to the range over 20 meters.
This tree has been designated a national monument in 1922.
A lot of cherry blossoms come out from the middle to late April every year and many people visit here to see the blossoms.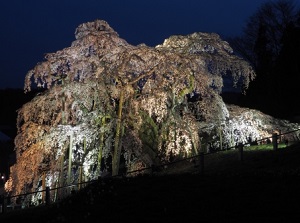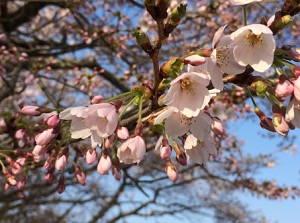 There are some cherry trees transplanted from the seedlings of Miharu Takizakura around Fukushima Prefecture.
In addition, some seedlings were transplanted abroad.
One of them is in the house of Herbert von Karajan (1908-1989) from Salzburg in Austria.
He was a great conductor of Berlin Philharmonic Orchestra and a Japanophile.
In 2008, the seedlings were sent to respond to request from Salzburg city for commemorating the 100th anniversary of Karajan's birth.
How to get here
Go to Kooriyama by Tohoku-Shinkansen, then change to JR Ban-etsu East Line (The nickname is "Yuyu-Abukuma Line".)
From Kooriyama To Miharu, about 12 minutes.
During the blooming of cherry blossom, shuttle bus is operated from Miharu station.
About 20 minutes to Miharu Takizakura.
Hotels in Kooriyama city
Other Tourist Attractions in Fukushima Prefecture