Mount Azuma-kofuji [
吾妻小富士

]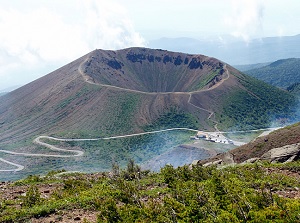 Mount Azuma-kofuji
Photo by Fukushima Prefecture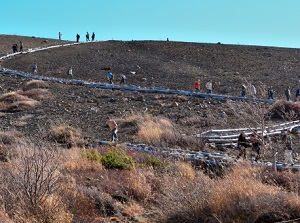 Walking trail of Azuma-kofuji
Azuma-kofuji is a small volcano located about 18 km west of central Fukushima city.
Azuma Mountains are a cluster of volcanoes and mountains having altitudes of over 2,000 meters, and spread from about 15 km to 35 km west of Fukushima city.
Azuma-kofuji is located at the east edge of Azuma Mountains.
"Kofuji" means "Little Fuji".
As the name suggests, the mountain is like Mt.Fuji.
Its altitude is 1,707 meters, and there is a large cone-shaped crater.
The diameter of the crater is about 500 meters and the depth is about 70 meters.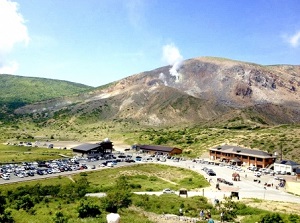 Jododaira parking and Mt.Issaikyo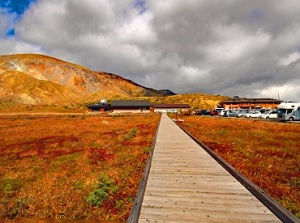 Jododaira in autumn
A highway "Bandai-Azuma Skyline" runs by Azuma-kofuji, and there is the parking, observatory and a visitor center near the volcano.
The name of the place is Jododaira (浄土平).
You can see the scenery of the volcano at the observatory.
And there is a trail to walk around the crater from the parking.
The walking distance is about 2 km, and it takes about an hour to walk.
Grassland, marsh and forests extend around Jododaira.
Various wild flowers bloom in summer and The autumn leaves are beautiful.
And, you can see an active volvano Mount Issaikyo (一切経山, 1,949 m) to the north of Jododaira.
But, the highway is closed from the middle of November to early April.
How to get here
From JR Fukushima station to Jododaira, 1.5 hours by direct route bus.
It is operated only 2 round services per day from early May to early November.
Especially, until the end September, it is operated only on Saturaday, Sunday and national holiday in Japan.
Other Tourist Attractions in Fukushima Prefecture