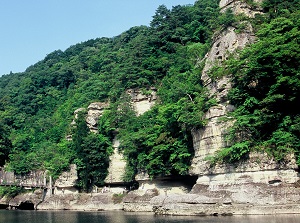 Tou-no-Hetsuri
Photo by Shimogo-town Tourism Association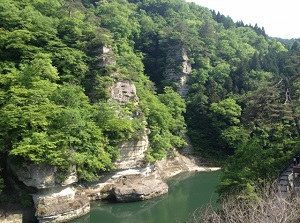 Tou-no-Hetsuri
Tou-no-Hetsuri is a gorge with unique rocky cliffs.
It is located about 27 km south of Aizu-Wakamatsu city and about 3 km south of Yunokami Onsen town at the entrance to Oouchi-jiku.
Aga River forms the gorge and huge strangely shaped rocks line on the cliff about 200 meters long.
The rocks of the cliff had been formed with a few strata for 1.3 million years.
Because each stratum has different properties, unique shape of the rocks has been formed by the erosion of the river.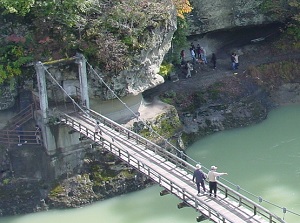 Bridge to the rock
Photo by Shimogo-town Tourism Association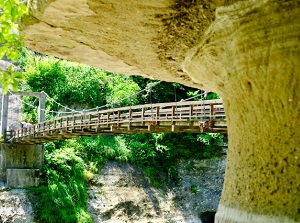 Bridge from Tou-no-Hetsuri
The cliff with the unique rocks is on the east side of the river.
We can visit from the west side and see the rocks from the front.
There is a suspension bridge and we can go to the side of the rocks.
How to get here
To Tou-no-Hetsuri station, 35 to 43 minutes from Aizu-Wakamatsu, 5 minutes from Yunokami-Onsen by local train of Aizu Railway Line.
Then, about 10 minutes walk to the river.
Other Tourist Attractions in Fukushima Prefecture