Tsuchiyu hot spring resort [
土湯温泉

]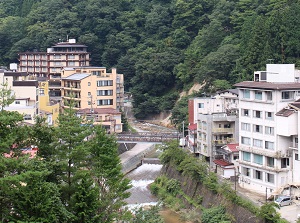 Tsuchiyu Onsen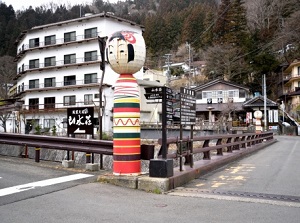 Onsen town of Kokeshi
Tsuchiyu Onsen is a hot spring resort located about 14 km southwest of central Fukushima city.
It is in a valley surrounded by mountains and a few dozens of hotels and ryokans are along Arakawa river.
It is said that a messenger of Prince Shotoku took a bath of this hot spring in 587.
Prince Shotoku was the statesman who developed a centralized national system of government in the beginning of the 7th century for the first time in Japan.
So, this onsen is one of old hot springs.
After the Great East Japan earthquake in 2011, this town accepted many earthquake victims as a temporary evacuation destination.
But, after they were moved to the other evacuation destination, this town became deserted and the visitors had sharply declined.
As a result, some hotels closed.
Now, the town is creating various services to recover the prosperity.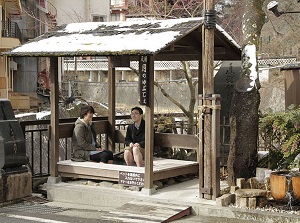 A footbath in Tsuchiyu Onsen
Photo by Fukushima Prefecture

Kokeshi in a souvenir shop in Tsuchiyu Onsen
There are 2 public bathhouses and 4 public footbathes in this resort.
Kokeshi is a simple wooden doll consisting of a round head and a cylindrical torso.
It is made in some towns in Tohoku Region, and Tsuchiyu onsen town is also one of the main places of the production.
In the town, there are some souvenir shops and a museum of Kokeshi.
How to get here
From JR Fukushima station, about 40 minutes by route bus.
Hotels around Tsuchiyu Onsen
Other Tourist Attractions in Fukushima city