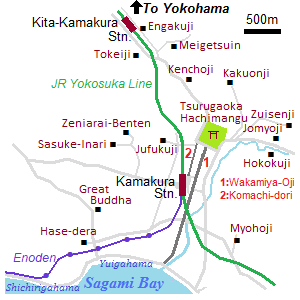 Myohoji is a temple of Nichiren Buddhism which is one of Japanese Buddhism.
Both "o" in the word "Myohoji" are pronounced long, so it is read as "Myôhôji" in Japanese.
It is located about 1 km southeast of JR Kamakura station.
This temple was first established by high priest Nichiren (1222-1282).
The original buildings were built in 1357.
In the 18th centuty, this temple was worshipped by the family of Shogun of Edo Govenment.
Therefore, the buildings had been painted red to welcome Shogun.
The current main temple is near the entrance gate and was built in the early 19th century.
There is Niomon gate to the west of the temple.
From there, there are stone steps.
The stone steps are perfectly covered with moss.
So this temple is called Moss Temple.
Beacuse the stone steps are preserved, we can't climb.
Instead, another steps are set up nearby.
On the hill after climbing the steps, there is Hokkedo temple.
It was built in the 1800s.
How to get here
By route bus, 4 minutes from JR Kamakura station (East exit) to Nagoe stop.
From there, 350 meters walk.
Hotels around Kamakura
Other Tourist Attractions in Kamakura
Central and western areas
Northern area
Eastern area