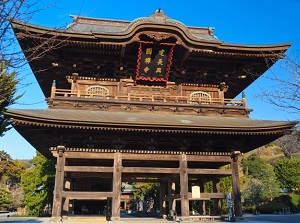 Sanmon gate of Kenchoji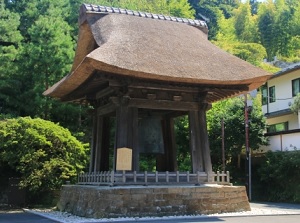 Temple bell of national treasure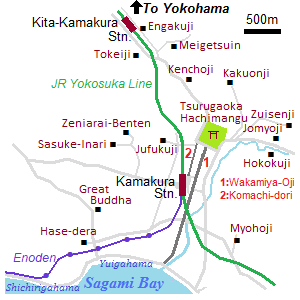 Kenchoji is a Buddhist temple located about 1 km north of Tsurugaoka Hachiman shrine.
It is the first Zen temple in Japan, and was founded by Hojo Yoritoki, the 5th regent of Kamakura govenment, in 1253.
The first chief priest was invited from China, and it is said that the original site of the temple was very large and many buildings were in the site.
And this temple was the highest rank in Kamakura.
In 1293, many buildings were damaged by the great earthquake.
After that, all original buildings were lost by the repeated fires.
But current temple is also great.
Two big gates, Buddhist temple (Butsuden), lecture hall (Hattou), and the residence of the chief priest (Houjou) are built on a line.
It is the original arrangement of the temple.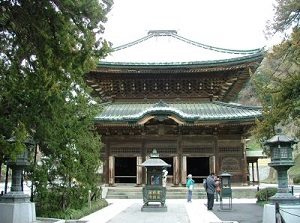 Butsuden in Kenchoji
Photo by Railstation.net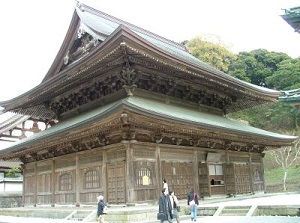 Hattou in Kenchoji
Photo by Railstation.net
Two gates were built in 1783 and 1775.
There is the temple bell created in 1255 near the gates.
It is an original object of this temple and is designated as a national treasure.
Butsuden was relocated from Zojoji temple in Tokyo in 1647.
The Jizo Bosatsu statue which is the principal object of this temple is enshrined in this building.
Hattou was built in 1814.
There is a Kan-non Bosatsu statue is in the hall.
And huge picture of dragon is painted on the ceiling.
It was painted by Koizumi Junsaku (1924-2012, Japanese painter lived in Kamakura) in 2003.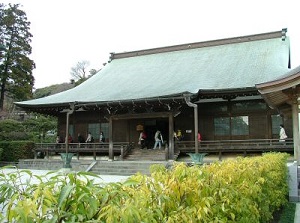 Houjou in Kenchoji
Photo by Railstation.net
Houjou was built in Kyoto in 1783 and was moved here.
Karamon gate of Houjou was also moved from Zojoji.
There is Hansôbô shrine on the mountainside about 500 meters norteast of the main site of the temple.
It is an observatory of Kamakura.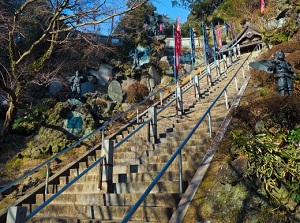 Hansobo in Kenchoji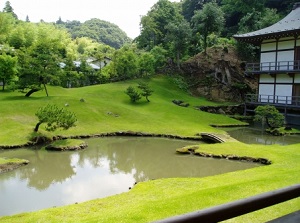 Japanese garden in Kenchoji
There are several small temples around the main site.
And we can see the Japanese garden.
In addition, the meeting of Zen meditation for common people is held from 16:30 to 17:30 on Friday and Saturday.
The admission fee is 500 yen.
How to get here
About 1 km walk from Tsurugaoka Hachimangu shrine.
Or, about 1 km walk from JR Kita-Kamakura station.
Other Tourist Attractions in Kamakura
Central and western areas
Northern area
Eastern area