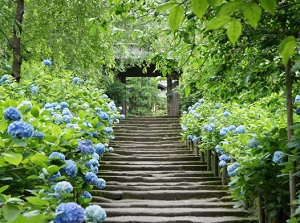 Approach & main gate of Meigetsuin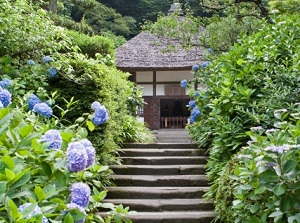 Kaizando temple in Meigetsuin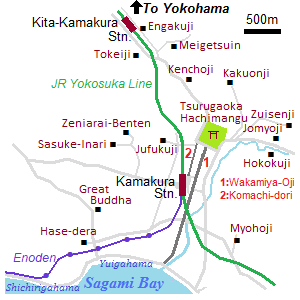 Meigetsuin is a Buddhist temple located about 0.7 km southeast of JR Kita-Kamakura station.
It is in a small valley on the northwest side of a hill and there is Kenchoji temple on the southeast side of the hill.
It is said that this temple was founded in the late 14th century.
This temple is a Zen temple with the same religious sect as Kenchoji.
The narrow approach is on a slope and there is a small gate at the end of the approach.
The main building in the site is Houjou, and there are a few buildings such as Kaizando.
And a Japanese garden is in the back of Houjou.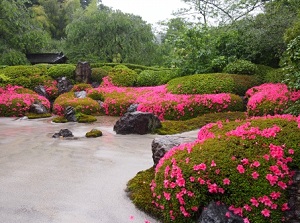 Japanese garden in Meigetsuin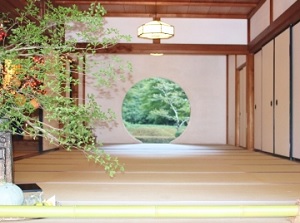 Satori-no-mado in Meigetsuin
There is a round window in a Japanese room of Houjou.
We can see the Japanese garden through the window.
It is called as Satori-no-mado ("Window of spiritual enlightenment" in English)
This is one of the popular sceneries in Meigetsuin.
And Meigetsuin is famous as "Temple of hydrangea".
The hydrangeas of the temple are beautiful from the middle to the end of June.
How to get here
About 1 km walk from Tsurugaoka Hachimangu shrine.
Or, about 1 km walk from JR Kita-Kamakura station.
Hotels around Kamakura
Other Tourist Attractions in Kamakura
Central and western areas
Northern area
Eastern area