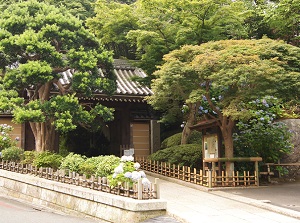 Entrance gate of Hokokuji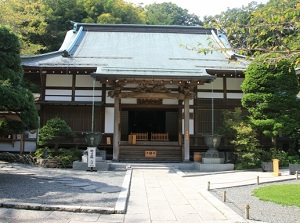 Main temple of Hokokuji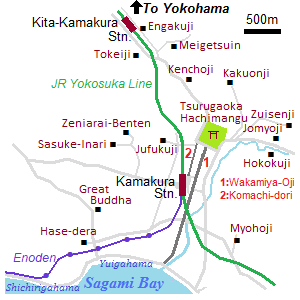 Hokokuji is a temple of Rinzai Buddhism which is one of the Zen Buddhism.
The first "o" in the word "Hokokuji" is pronounced long, so it is read as "Hôkokuji" in Japanese.
It is located about 1.4 km east-southeast of Tsurugaoka Hachiman shrine.
And, it is about 0.4 km south of Jomyoji temple.
Ashikaga Family governed Japan after Kamakura government, and the family established this temple in 1334.
In 1438, a civil war broke out and Ashikaga family in Kamakura were defeated.
At the last stage, the remaining Ashikaga Yoshihisa who was 17 years old committed suicide in this temple and Ashikaga family in Kamakura became extinct.
So, this temple is called "temple of tragedy".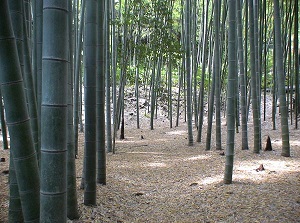 Bamboo forest in Hokokuji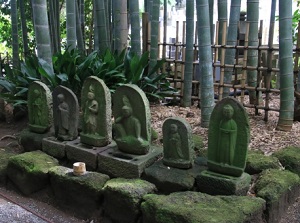 Buddha statues in Hokokuji
But, this temple is famous for bamboo forest.
There is a main temple and the forest with over 2,000 bamboo trees surrounds the temple.
A walking trail is in the forest.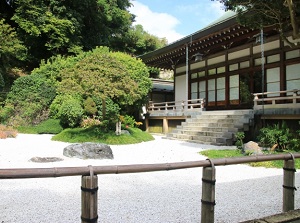 Japanese garden in Hokokuji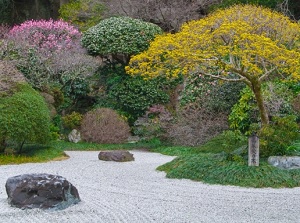 Japanese garden in Hokokuji
And there is a beautiful Japanese garden near the temple.
We can enjoy green tea in the temple.
How to get here
By route bus, 8 minutes from JR Kamakura station (East exit) to Jomyoji stop.
From there, 200 meters walk.
Other Tourist Attractions in Kamakura
Central and western areas
Northern area
Eastern area