Tsurugaoka Hachimangu shrine [
鶴岡八幡宮

]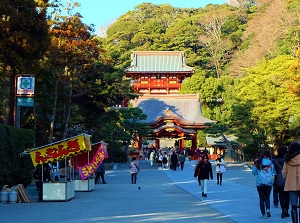 Approach to Tsurugaoka Hachimangu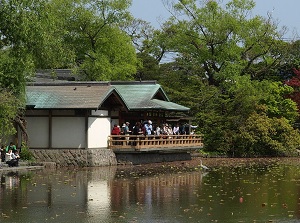 A pond in Tsurugaoka Hachimangu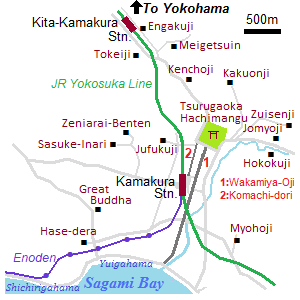 Tsurugaoka Hachimangu is a Shinto shrine.
It is located about 1 km northeast of JR Kamakura station, and is at the northen end of central Kamakura.
It was founded by Minamoto Yoriyoshi in 1063.
The founder of Kamakura government was Minamoto Yoritomo and he was a descendant of Yoriyoshi.
Yoritomo came here in 1180 and he had built many governmental facilities around this shrine.
Then he established Kamakura government in 1192.
Later in the 17th century (Edo Period), many buildings of Buddhist temple had also been built in this shrine.
So, here became a great Shinto shrine mixed with Buddhism.
But in 1870, Meiji government forced all Shinto shrine to abandon Buddhism, so most of the buildings about Buddhism in this shrine had been destroyed.
The site of shrine is about 300 meters square.
The main gate is at the south side of the shrine.
To the gate, the approach Wakamiya-Oji about 1.8 km long through the city runs.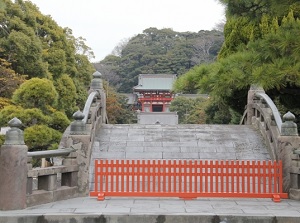 Arched bridge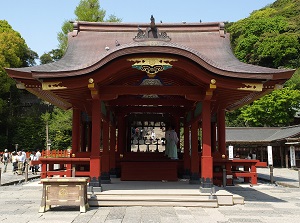 Maiden
Near the main gate, there are two ponds on the both side of the approach in the site.
And there are several constructions such as Torii gate, arched stone bridge, etc. in the site.
There is Maiden shrine at the end of the approach.
It was originally built in 1193, and it is used as a stage for Japanese ancient dance in the festival.
The main shrine is at the north part of the site and it is at the edge of the mountain.
To the main shrine, we must go up stairs with 61 steps.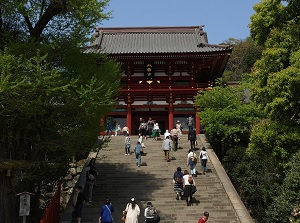 Main shrine of Tsurugaoka Hachimangu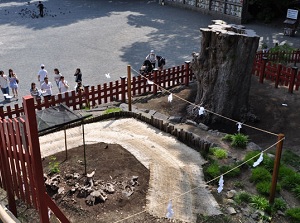 Regenerating ginkgo tree
Photo by Railstation.net
The shrine was rebuilt in 1828 and is designated as a nationally important cultural property.
There was a great old ginkgo tree near the stairs.
It was 800 to 1,000 years old and was a symbol of this shrine.
But it was blown down in the storm in March 2010.
It was cut into three parts, and they are preserved to regenerate the new tree.
Now, the leaves are coming out.
How to get here
About 700 meters walk from JR Kamakura station.
Hotels around Kamakura
Other Tourist Attractions in Kamakura
Central and western areas
Northern area
Eastern area