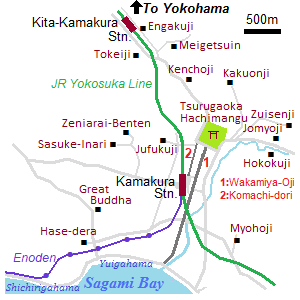 Kakuonji is a temple of Shingon Buddhism which is one of the major schools of Japanese Buddhism.
It is located about 1.2 northeast of Tsurugaoka Hachiman shrine and in a small valley.
The temple was established by Hojo Yoshitoki, the 2nd regent of Kamakura govenment, in 1218.
Because the surrounding nature has been conserved, it is said that the appearance of old Kamakura is preserved.
The general visitors are not permitted to enter the most areas of the temple freely.
First, after you pass the entrance gate, thete is Aizendo temple.
It enshrines the principal object of the temple and a few Buddha statues.
But you can see only this building in this temple freely.
It is held every hour from 10:00 to 15:00
From here, you must join the guided tour by the priest.
It is held every hour from 10:00 to 15:00. (The admission fee is 500 yen.)
But it is prohibited to take photos in this tour.
The main building in the guided tour is Yakushido temple.
It was originally built in 1354, and the current building was rebuilt in 1689.
There are some Buddha statues created in the 15th century.
And there are two stone towers built in 1332.
All of them are designted as the national important cultural properties.
How to get here
By route bus, 8 minutes from JR Kamakura station (East exit) to Ootounomiya stop.
From there, 500 meters walk.
Other Tourist Attractions in Kamakura
Central and western areas
Northern area
Eastern area