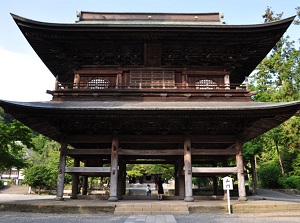 Sanmon gate of Engakuji
Photo by Railstation.net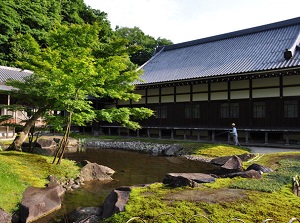 Houjou and Japanese garden
Photo by Railstation.net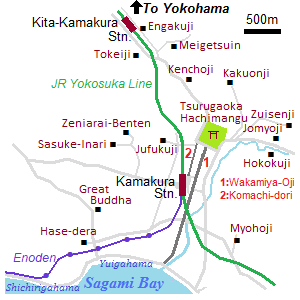 Engakuji is a Buddhist temple located just east of JR Kita-Kamakura station.
It is located about 1 km northwest of Kenchoji temple.
This temple was founded in 1282 for the dead samurais by the wars of Mongol invasion attempts against Japan (in 1274 and 1281).
The founder was Hojo Tokimune, the 8th regent of Kamakura govenment, and he invited a high priest from China as the chief priest.
So this temple was the second highest rank after Kenchoji in Kamakura.
But, the buildings were sometimes destroyed by the repeated fires.
Two big gates, Buddhist temple (Butsuden), lecture hall (Hattou), and the residence of the chief priest (Houjou) were built on a line, but Hattou had been lost.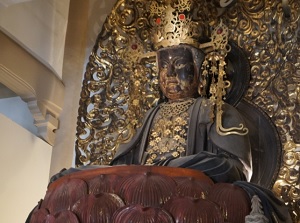 Shaka-Nyorai statue of Engakuji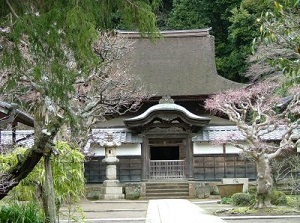 Shariden in Engakuji
Photo by Railstation.net
Sanmon gates was rebuilt in 1785.

Butsuden was rebuilt in 1964.
The Shaka-Nyorai statue which is the principal object of this temple is enshrined in this building.
There is the temple bell created in 1301 near the gates.
It is an original object of this temple and is designated as a national treasure.
There is Shouzokuin temple at the northeast end of the site.
In the temple, there is Shariden built around the 15th century.
It is a national treasure, and there is a miniature shrine enshrining Buddha's ashes.
How to get here
About 100 meters walk from JR Kita-Kamakura station.
Hotels around Kamakura
Other Tourist Attractions in Kamakura
Central and western areas
Northern area
Eastern area