Great Buddha of Kamakura [
鎌倉大仏

]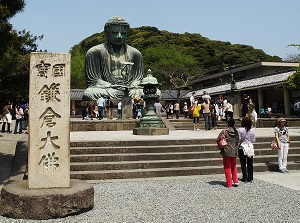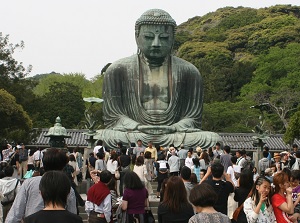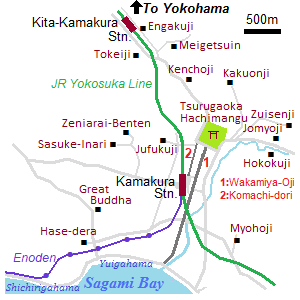 Great Buddha of Kamakura is located about 1.3 km west of Kamakura station.
In Japanese, this Great Buddha is called Kamakura Daibutsu.
The large statue is the principal object of Kotoku-in temple (高徳院).
(The first "o" in the word "Kotoku-in" is pronounced long, so it is read as "Kôtoku-in".)
This statue is designated as a National Treasure.
It is said that the temple was founded in the 12th century.
But it is not known why this Great Buddha was constructed.
It is said that this Buddha was first built with wood in 1243.
And it began to rebuild of bronze in 1252.
Originally, the statue had been placed in a building.
But it is said that the building was destroyed by the typhoon in 1369 and the great earthquake in 1498.
Since that, this statue has been sitting in the open air.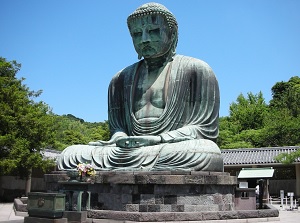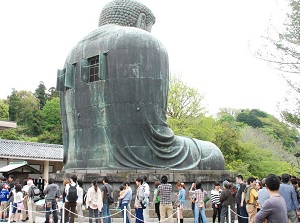 The height of thr body is about 11.4 meters, and the height including the seat is about 13.4 meters.
We can enter the inside of the Buddha for a fee.
In 2016, major repair of this statue were performed.
At that time, sticked chewing gums and graffiti were found in the statue.
Please keep good manners.
How to get here
About 600 meters walk from Hase station of Enoden railway.
Other Tourist Attractions in Kamakura
Central and western areas
Northern area
Eastern area