Hase temple (Hase-dera) [
長谷寺

]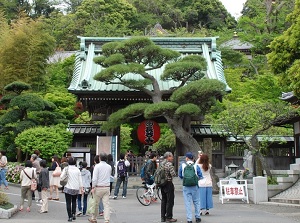 Main gate of Hase-dera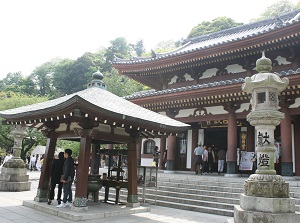 Kan-nondo in Hase-dera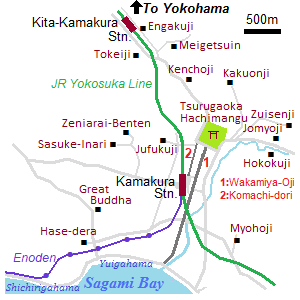 Hasedera is a Buddhist temple located about 0.5 km south of the Great Buddha.
In 721, two statues of Kan-non (one of Buddhist saints) were created from a big camphor tree.
One was enshrined in Hase-dera in Nara Prefecture.
And another statue was floated in the sea.
Fifteen years later, the statue was washed up on the shore near Kamakura.
It is said that this temple was founded for the statue in 736 and was named the same "Hase-dera".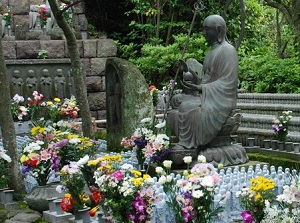 Many Buddha statues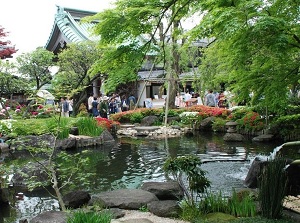 Japanese garden in Hase-dera
The wooden statue of Kan-non has eleven faces.
And it is enshrined in Kan-nondo hall in this temple.
It is one of the biggest wooden statues in Japan, and is about 9.2 meters tall.
But the statue may not be the original statue because it had often been repaired for a long time.
The sign written in 1485 was found in the current statue, so it is said that the statue may have been remade around the 14th century.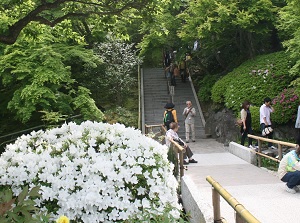 Azalea in Hase-dera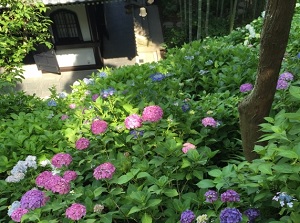 Hydrangeas in Hase-dera
Another name of this temple is Temple of flower.
Various flowers and blossoms bloom through a year.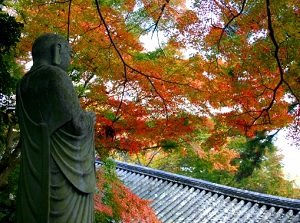 Autumn leaves in Hase-dera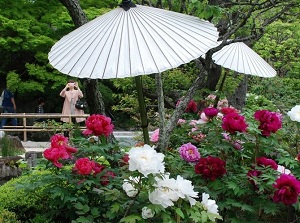 Peony in Hase-dera
How to get here
About 350 meters walk from Hase station of Enoden railway.
Other Tourist Attractions in Kamakura
Central and western areas
Northern area
Eastern area