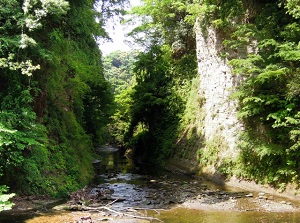 Yoro Ravine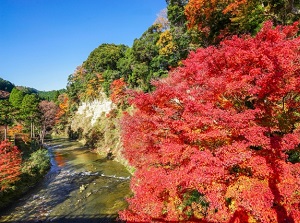 Yoro Ravine in autumn
Yoro Ravine is located roughly in the center of Boso Peninsula.
Both "o"s in "Yoro" are pronounced long, so it is read as "Yôrô keikoku" in Japanese.
It is a ravine formed by Yoro River, and there are some waterfalls along the river.
Around the ravine, rich forests are spread.
Boso Peninsula doesn't have high mountains and the altitude of this ravine is between 100 and 250 meters.
The entrance to this ravine is Yoro-keikoku station of Kominato Railway.
From here to the south, the ravine stretches for about 6 km.
At 1 km south of the station, there is Yoro hot spring resort, and it has several ryokans and hotels.
Around this resort, there is Shusse Kan-non temple (出世観音) founded in the late 12th century.
"Shusse" means "successful career", so many worshippers have visited here.
Kan-non Bridge on the approach across Yoro River is unique and has two arches.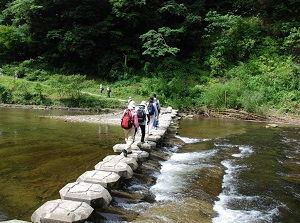 Yoro Ravine in summer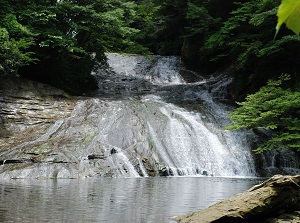 Awamata Waterfall
At about 6 km point, there is the largest Awamata Waterfall (粟又の滝).
Around there, a wakling trail is set up.
In early April, we can see many cherry blossoms.
In spring and summer, this ravine is full of greenery.
And autumn leaves are beautiful from late November to early December.
How to get here
From Tokyo to Goi station on JR Uchibo Line, about 1 hour by rapid train for Kisarazu or Kimitsu.
Then, change to the train of Kominato Railway at Goi.
It takes about an hour from Goi to Yoro-keikoku station.
Hotels in Ichihara city
Other Tourist Attractions in Chiba Prefecture