Naritasan Shinshoji temple [
成田山新勝寺

]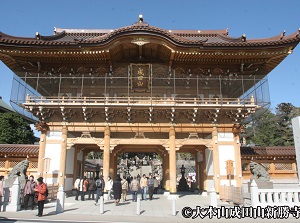 Entrance gate
Photo by Naritasan Shinshoji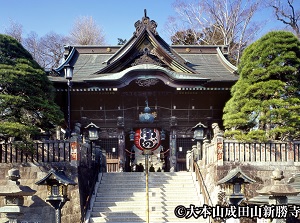 Niomon gate
Photo by Naritasan Shinshoji
Naritasan Shinshoji is a temple of the Shingon sect which is one of Japanese Buddhism.
The last "o" in the word is pronounced long, so it is read as "Shinshôji" in Japanese.
It is located about 1 km north of Narita station of JR and Keisei Railway.
It is near central Narita city, and Narita International Airport is located about 7 km east of this temple.
It is one of the famous temples in Kanto region.
Especially, nearly 3 million worshipers visit here during first three days of New Year, and it ranks second after Meiji Shrine in Japan.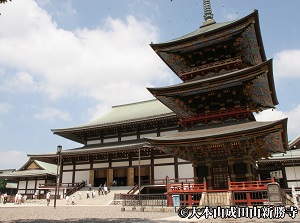 Main hall & Three-story pagoda
Photo by Naritasan Shinshoji

Shakado
Photo by Naritasan Shinshoji
In 940, Emperor Suzaku in Kyoto dispatched a high priest Kancho to east Japan to settle a civil war.
Kancho brought a statue of Fudo-myouou which is an avatar of Buddha, and he prayed near here.
After that, he was ready to go back.
But he was unable to move his statue.
At that time, he heard the voice of statue.
The statue said "I want to make the people happy here."
This story made an impression on Emperor Suzaku.
Then he built a temple here.
It is the current Naritasan Shinshoji temple.
But this temple had fallen into ruin in the 16th century, in the the age of provincial wars.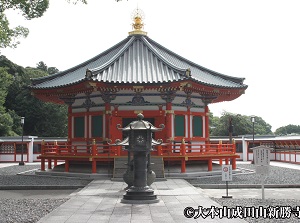 Shotoku-taishido
Photo by Naritasan Shinshoji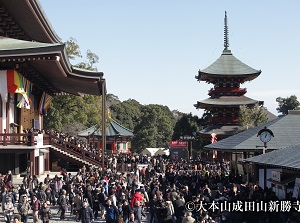 The first temple visit of the New Year
Photo by Naritasan Shinshoji
In 1703, the statue of Fudo-myouou was opened to the public in Edo (Current Tokyo), after the end of war period.
The hidden treasure of this temple became popular among ordinary people in Edo.
Danjuro Ichikawa, who was the top actor of Kabuki at the time, had become a believer of the temple.
So, Naritasan Shinshoji had accepted widely the belief.
Since that, many worshipers have visited here.
The statue of Fudo-myouou is open to the public every 10 years.
In 2018, it was opened to the public in the ceremony of the 1,080th anniversary of the temple.
The temple precincts are relatively wide, and there are many various buildings.
Niomon gate, Three-story pagoda, Shakado hall, Gakudo hall and Komyodo hall were built in the 18th to 19th centuries, so they are designated as a nationally important cultural properties.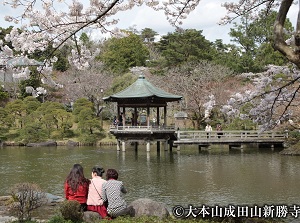 Naritasan Park
Photo by Naritasan Shinshoji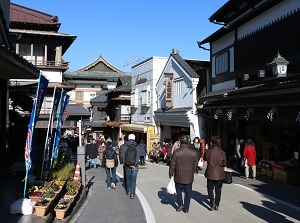 Approach to Naritasan Shinshoji
In the northeast part of the site, there is Naritasan Park.
It is a large park with some ponds and Japanese gardens.
It has an area of 16.5 hectares.
From Narita station (JR and Keisei Railway), there is an approach to the main gate of Naritasan Shinshoji.
The length is about 1.1 km and there are many souvenir shops, restaurants and cafes along the street.
How to get here
Get off at Narita station of JR or Keisei-Narita station of Keisei Railway.
By JR Line, about 1 hour and 10 minutes by rapid train from Tokyo station.
By Keisei Railway, about 65 minutes by limited express from Keisei-Ueno station.
About 15 to 20 minutes walk from the station to the temple.
Hotels around Narita
Other Tourist Attractions in Chiba Prefecture