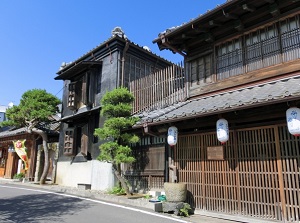 Old houses in Sawara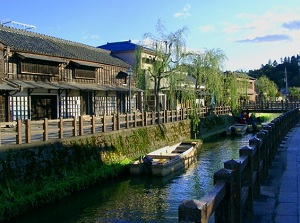 Ono River in Sawara
Sawara is a district in Katori city located northeast part of Chiba Prefecture.
It is located about 50 km northeast of Chiba city and about 70 km east-northeast of Tokyo.
Tone River flows just to the north of the district.
It is the big river flowing through the center of Kanto Basin, and it forms the border between Chiba and Ibaraki prefectures.
It is said that there had been Katori Shrine in this district in the 3rd century.
Here was the base to government northeastern Japan in that time.
And this town had developed around the shrine.
Since Edo Period (1603-1868), here became a grain-growing district, and the transportation by water also had developed.
So Sawara had prospered as a port city.
But since the 1960s, means of transportation had changed from water-carriage to truck or railway, then Sawara had declined.
Now here is known as a town with old streets and canals.
This area including Sawara, Itako and Kashima in Ibaraki Prefecture has many small rivers, canals and lakes formed by Tone River.
We can enjoy the waterscape.
So this area is called "Suigo" (the land with water) in Japanese.
Old town in Sawara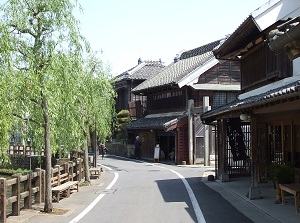 Old houses in Sawara
Photo by Katori City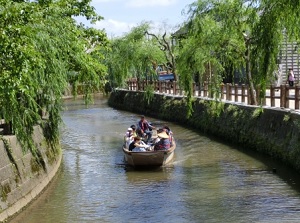 Ono River boat cruise
Photo by Katori City
There are the streets lining traditional old buildings in the central area of Sawara.
They are located about 0.5 to 1.0 km southeast of JR Sawara station.
Katori Street runs from east to west, and Ono River flows from north to south.
The crossing point is Chukei Bridge, and it is the center of the old town.
The old town is within about 500 meters from the bridge.
Most of the buildings are traditional Japanese shops, and were built between the late 19th century and the early 20th century.
They are designated cultural properties.
This area is often called Little Edo.
When you travel around this town, rental bicycle is available at Sawara station.
And, you can enjoy Ono River boat cruise.
The boarding point is near Chukei Bridge and the cruising time is about 30 minutes.
Former Ino Tadataka's Residence (
伊能忠敬旧宅

)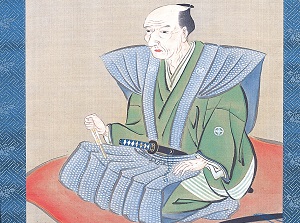 Ino Tadataka
Photo by Inoh Tadataka Museum, Katori City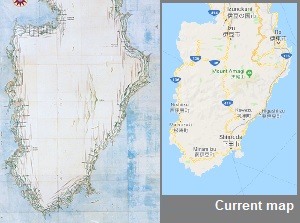 Map of Izu Peninsula by Ino
Photo by Inoh Tadataka Museum, Katori City
Sawara city produced Ino Tadataka (1745-1818, a famous surveyor).
He was a merchant, but he had retired when he was 50 years old.
Then he studied astronomy and surveying in Edo (Current Tokyo).
When he was 56 years old, he proposed the surveying of eastern Japan to Edo government.
After surveying the coast by walking for 3 years, he produced the maps of eastern Japan and showed them to Shogun in 1804.
The high-precision maps surprised the Shogun and administration officials, then producing the map of all Japan was planned as a national project.
Ino's team had surveyed whole of Japan for 12 years (from 1805 to 1816).
After that, Ino died at age 73 in the middle of producing the maps, but his disciples had completed the map with hiding the death of Ino.
At last, in 1821, they presented the completed maps of whole Japan as the great Ino's achievement.
Later, when the Western engineers visited Japan, the accuracy of the maps surprised them.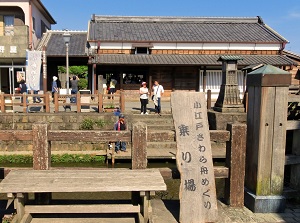 Ino Tadataka's Residence
in front of boat boarding point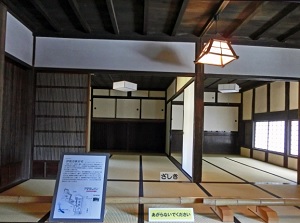 A room in Ino Tadataka's Residence
It is the residence where Ino Tadataka had lived from 1762 (17 years old) to 1795 (50 years old).
It is located about 80 meters south of Chukei Bridge.
The residence has a shop selling sake and shoyu (soy sauce), a storehouse and a main house, and he worked as a merchant there.
When he was 50 years old, he gave this residence to his son and went to Edo to study.
Ino Tadataka Museum (
伊能忠敬記念館

)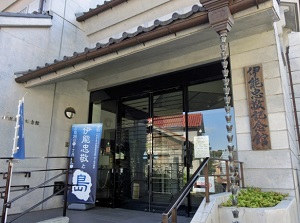 Ino Tadataka Museum
Photo by Inoh Tadataka Museum, Katori City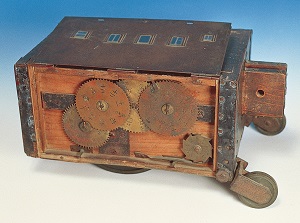 Ino's distance measuring instrument
Photo by Inoh Tadataka Museum, Katori City
It is a museum introducing the life and achievement of Ino Tadataka.
It is located just across Ono River from Former Ino Tadataka's Residence.
Many materials about his life are exhibited, and there are his surveying tools.
Of course, we can see the maps which he produced.
(But, you can't take photos in here.)
Katori Shrine (
香取神宮

)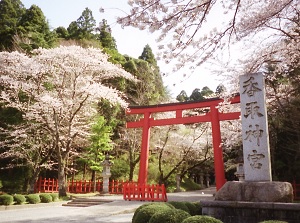 Entrance of Katori Shrine
Photo by Katori City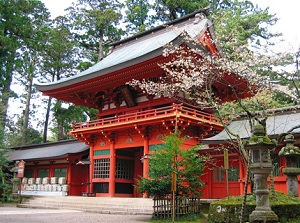 Romon gate of Katori Shrine
Photo by Katori City
It is a Shinto shrine located about 3 km east of Chukei Bridge.
In legend, it is said that this shrine was founded in 643 B.C.
Of course, it is too old, then some scholars disagree.
This is one of the ancient important shrines, and there are about 400 branch shrines across the country.
Current shrines and main gates were built in 1700.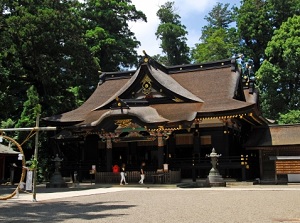 Main shrine of Katori Shrine

Kaname-ishi in Katori Shrine
There is a sacred rock Kaname-ishi in the precincts of the shrine.
It is a small rock but the huge body of the rock is under the ground.
In the old days, Japanese people believed that huge catfish under the ground occurred earthquakes.
And it was said that this big rock pressed down on the catfish so that it could not move.
How to get here
By JR Line, about 1 hour and 10 minutes by rapid train from Tokyo station to Narita station.
Then, change to the local train of JR Narita Line.
About 30 minutes to Sawara station.
Hotels in Katori city
Other Tourist Attractions in Chiba Prefecture