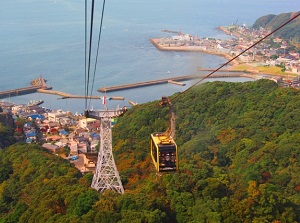 Ropeway to Mount Nokogiri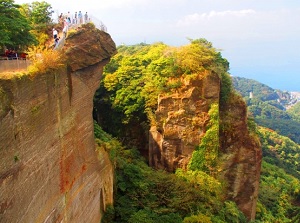 Cliffs of Mount Nokogiri
Mount Nokogiri is a mountain located southwest part of Chiba Prefecture.
It is near Tokyo Bay and the height is 329 meters.
It is located about 60 km south of Chiba city and there is the south end of Miura Peninsula about 20 km to the west beyond Tokyo Bay.
"Nokogiri" means "saw".
Surely, the shape of the peaks looks like the tooth of a saw.
Here had been a quarry, then we can find some vertical walls of rock.
We can go up to one of the peaks by ropeway from the northern foot, and we can see Tokyo Bay, Miura peninsula and Yokohama city.
If it is fine, we can find Izu peninsula and Mount Fuji in the distance.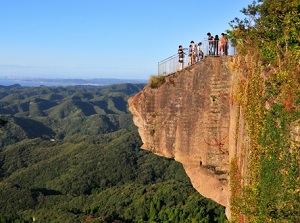 An observatory of Mount Nokogiri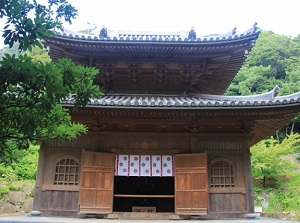 Restored main temple of Nihonji
There is Nihonji temple (日本寺) on the southern mountainside of Mount Nokogiri.
It is said that the temple was founded in 725.
It had been the great Buddhist temple.
In the late 18th century, more than 1,500 stone Buddha statues were created around the temple.
But it was scrapped by the Meiji government in the late 19th century.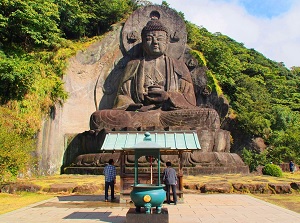 Giant Buddha of Nihonji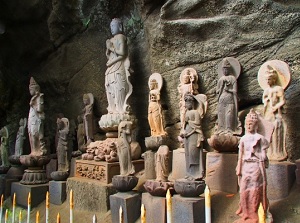 Stone Buddha statues of Nihonji
Now a Giant Buddha, the stone Buddha statues and some remains are in the wide precincts.
Whole area of Mount Nokogiri is the precincts of the temple.
The Giant Buddha is about 31 meters high, and it is the largest Buddha statue in Japan.
How to get here
From Tokyo to Kisarazu of JR Uchibo Line, about 1 hour and 20 minutes by JR rapid train.
Change to the local train for Tateyama.
About 50 minutes to Hamakanaya station.
Walk about 10 minutes to the station of the ropeway.
It takes about 4 minutes to the top of the mountain.
Hotels in Tateyama city
Other Tourist Attractions in Chiba Prefecture