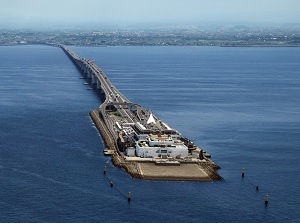 Umi-hotaru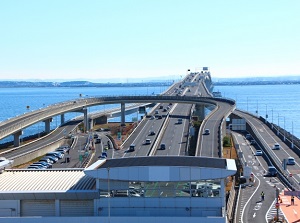 View of Kisarazu side at Umi-hotaru
Umi-hotaru is a nickname of a rest area on the expressway Tokyo Bay Aqua-Line.
The name means "sea firefly".
Tokyo Bay Aqua-Line is the expressway connecting between Kawasaki city in Kanagawa Prefecture and Kisarazu city in Chiba Prefecture.
It is built across Tokyo Bay.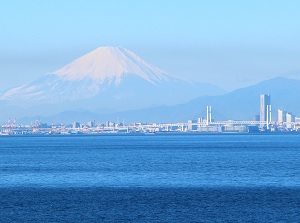 View of Yokohama at Umi-hotaru in winter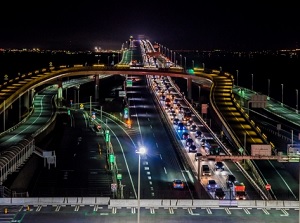 Umi-hotaru in the evening
The length is 14.0 km.
The west part (Kawasaki side) is a 9.6 km-long undersea tunnel, and the east part (Kisarazu side) is a 4.4 km-long bridge.
And there is "Umi-hotaru" rest area at the bridge-tunnel crossover point.
In the rest area, there are a few observatory areas, restaurants, shops and amusement facilities.
The location is on an artificial island in Tokyo bay, then it has good views.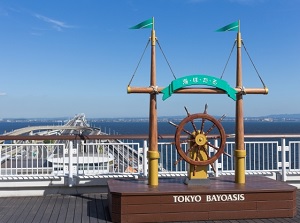 One of observatory areas in Umi-hotaru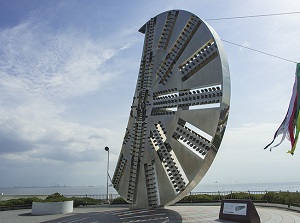 Monument of cutter face for tunnel
Because this rest area is a tourist attraction, the cars can make a U-turn here for only visiting this Umi-hotaru.
And route bus is operated hourly between JR Kawasaki station and JR Kisarazu station.
How to get here
By route bus, about 45 minutes from Kawasaki station, about 30 minutes from Kisarazu station.
Hotels in Kawasaki and Kisarazu
Other Tourist Attractions in Chiba Prefecture