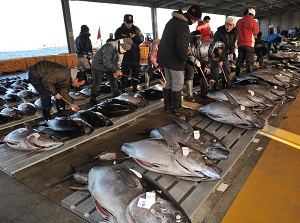 Tuna auction neat Choshi fish harbor
Photo by Chiba Prefectural Tourism Association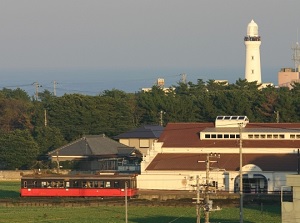 Tram of Choshi-dentetsu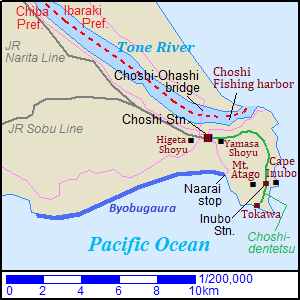 Choshi is a city located at the northeast end of Chiba Prefecture.
The vowel "o" in the word is pronounced long, so it is read as "Chôshi".
This city is located at the mouth of Tone River.
The fishing harbor of Choshi has one of largest fish catches in Japan, and especially many sardines are landed.
And Choshi city has two Japan's large shoyu (soy sauce) manufacturers, Yamasa and Higeta.
Choshi is surrounded by Pacific Ocean, then there are the tourist spots near coasts.
From JR Choshi station, Choshi-dentetsu (Choshi Electric Railway) is laid.
It is a small railway, and has a route from JR Choshi station to Tokawa.
The length is only 6.4 km.
This railway company struggles financially.
So this company sells Japanese soft cracker "Nure-senbei" and snack confectionery "Mazui-bou" with unique self-deprecating catchphrase.
This railway runs near some sightseeing spots.
Please use this railway, when you visit Choshi.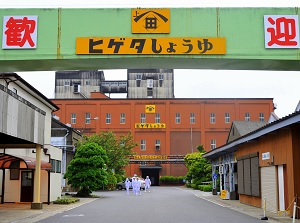 Higeta shoyu factory
Photo by Chiba Prefectural Tourism Association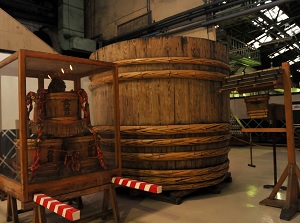 Old big barrel in Higeta shoyu factory
Photo by Chiba Prefectural Tourism Association
Two soy sauce factories
There are two large soy sauce manufacturers around JR Choshi station.
Both manufacturers have long histories.
Yamasa is located about 0.5 km east of the station.
It was founded in 1645.
Higeta is located about 0.8 km west of the station.
It was founded in 1616.
We can tour both factories.
Basically, we have to have an appointment.
Cape Inubo (
犬吠埼

)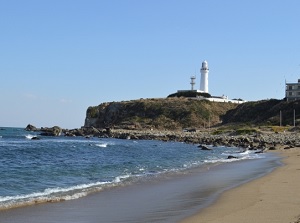 Cape Inubo from Kimigahama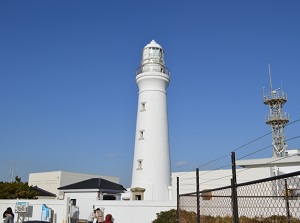 Inubosaki Lighthouse
Cape Inubo is a cape located about 5 km southeast of central Choshi city.
In Japanese, it is called "Inubôsaki".
It faces the Pacific Ocean, and is known for the Japan's earliest place of sunrise around New Year's Day.
So, many people visit here to see the first sunrise of the year.
Inubôsaki Lighthouse stands on the tip of the cape.
It was completed in 1874 and the height is about 31 meters.
There are some former buildings around the lighthouse and they are used as the museum.
There is Kimigahama beach (君ヶ浜) to the north of cape.
The length is about 1.3 km.
It is the good place to see the grand Pacific Ocean and the early sunrise.
To visit here, get off at Inubo station of Choshi-dentetsu Line (18 minutes from Choshi station).
Then, walk for about 700 meters.
Mount Atago observatory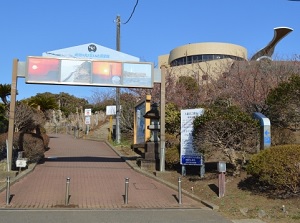 Entrance to Mt.Atago observatory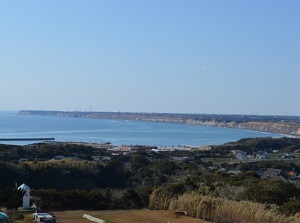 Byobugaura cliff from Mount Atago observatory
Mount Atago is a small mountain located about 1.5 km west of Cape Inubo.
The height is only about 74 meters.
On the top, there is an observatory building.
In Japanese, it is called Chikyû no maruku mieru oka tenboukan (地球の丸く見える丘展望館).
The long name means "Observatory where we can see the round earth".
From here, we can enjoy 360-degree view.
We can see the Pacific Ocean with a 330-degree field of view.
Even the other part is seen without intercepting visibility.
This facility is open from 9:00 (8:30 from July to September) to sunset.
We can see Mount Fuji in silhouette at sunset if it is fine.
To visit here, walk about 15 minutes from Inubo station.
Tokawa (
外川

)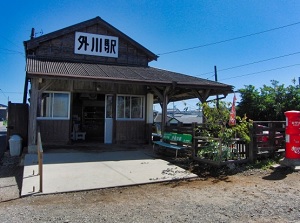 Tokawa station of Choshi-dentetsu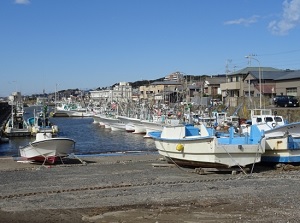 Tokawa fishing harbor
Tokawa is a small town with fishing harbor, and is located about 5 km southeast of central Choshi.
Tokawa is the last stop on Choshi-dentetsu Line, and there is a small town.
The harbor was built in 1661, and the town also was built on a grid around the same time.
The distance between the station and the harbor is about 300 meters.
We can see the rustic scenery of the town.
There is a slope near the harbor and the scenery of the sea is good.
Byôbugaura cliff (
屏風ヶ浦

)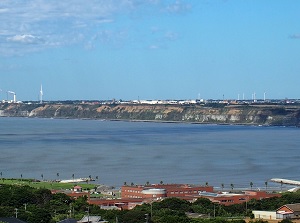 Byobugaura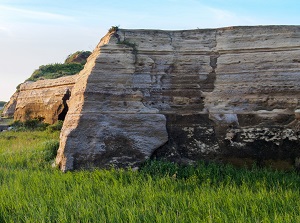 Cliff of Byobugaura
Byôbugaura is the cliff extending for 10 km along the south coast of Choshi city.
The height is 40 to 50 meters, and we can see the stratum on the surface.
The magnificent view is similar to "White cliffs" of Dover in England.
We can see this cliff from Mount Atago Observatory.
It is about 2 km ahead of the observatory.
If you want to see them up close, get on the route bus to Na-arai stop from Choshi station.
The bus arrives in about 10 minutes, then walk about 5 minutes to the coast.
How to get here
From Tokyo, about 2 hours by JR limited express "Shiosai".
Or, by express buses, about 2 hours 10 minutes from Tokyo station to Choshi station.
Other Tourist Attractions in Chiba Prefecture