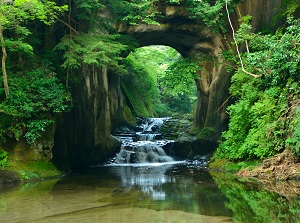 Nomizo Falls & Cave of tortoise rock
Photo by Kimitsu City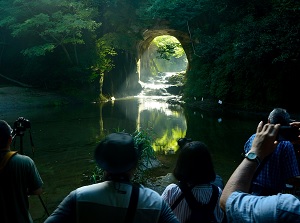 Waiting visitors for good scene at Nomizo Falls
Photo by Kimitsu City
Nomizo Falls is the unique falls in the mountain in Kimitsu city.
The first "o" in the word is pronounced long, so it is read as "Nômizo no taki" in Japanese.
It is located about 25 km southeast of JR Kimitsu station.
A small river flows in a valley and there is the small and low falls like stairs.
These are called as Nomizo Falls.
There is a round cave in front of the falls and the water of the river through the cave.
The cave was drilled to lead the water to the rice field smoothly about 350 years ago.
There is a rock like tortoise in the cave, so this cave is called Cave of tortoise rock (亀岩の洞窟, "Kameiwa no dôkutsu" in Japanese).
From March to September, the sunshine comes through the cave in the morning.
The scene is very fantastic and some say the scene is like an anime of Studio Ghibli.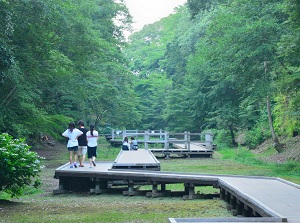 Walking trail to Nomizo Falls
Photo by Kimitsu City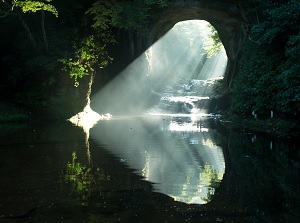 The shape of heart at Nomizo Falls
Photo by Kimitsu City
Especially, the sunshine looks like the shape of heart in early morning (around 7:00) in early March and early September.
This scene was introduced in Instagram in 2015, then here became a very popular spot suddenly.
The place is about 400 meters from the parking, and a walking trail is set up.
There is a public bath Senju-no-yu (千寿の湯).
How to get here
By express bus for Awa-Kamogawa, about 2 hours and 10 minutes from Hamamatsucho bus terminal (Tokyo) to Kimitsu-furusato-bussankan stop.
The bus also stops at Yaesu exit of Tokyo station.
From Kimitsu-furusato-bussankan stop, about 1.5 km walk to Senju-no-yu.
Hotels in Kimitsu
Other Tourist Attractions in Chiba Prefecture