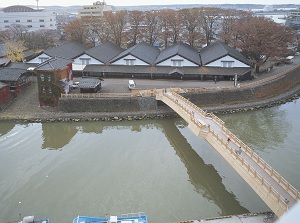 Sankyo warehouse
Photo by Yamagata Prefecture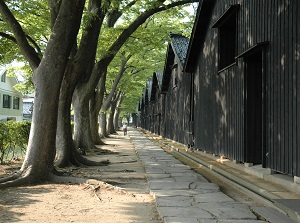 Sankyo warehouse and zelkova trees
Photo by Yamagata Prefecture
Sankyo warehouse ("Sankyo Sôko" in Japanese) is a rice warehouse built in 1893.
It is located about 2 km south of JR Sakata station, and is about 500 meters from Former Abumiya residence.
It is near Niida River, and many Japanese zelkova trees line along this warehouse for blocking the sun's rays in summer.
Here is the most popular spot in Sakata.
Because, Japanese TV drama "Oshin" was shot around this place on location in 1983.
"Oshin" is a story of a girl who makes her way through life in spite of life's hardships, such as poverty and bullying.
The drama was very popular in Japan, and has been broadcast in over 70 countries and regions around the world.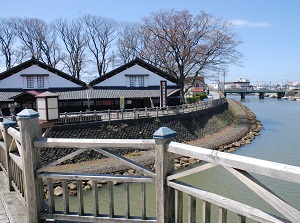 Shonai Rice History Museum
Photo by Yamagata Prefecture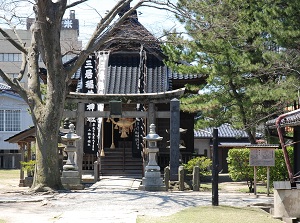 Shrine of Sankyo warehouse
Photo by Yamagata Prefecture
Originally, 14 warehouses were built, but 12 warehouses remain now.
Nine warehouses are used as rice granary, and the other warehouses are used as Shonai Rice History Museum (庄内米歴史資料館) and Sakata Tourism and Produce Center (酒田 夢の倶楽).
How to get here
By route bus "Runrun Bus", about 8 minutes from JR Sakata station.
Or, walk for 0.7 km from Former residence of Honma Family. (About 10 minutes)
Hotels in Sakata city
Other Tourist Attractions in Sakata city