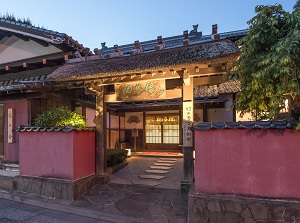 Somaro
Photo by Yamagata Prefecture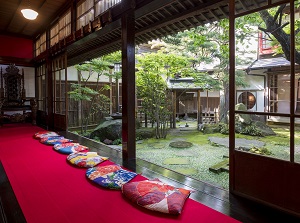 Inside of Somaro
Photo by Yamagata Prefecture
Somaro is a Japanese-style restaurant, and is located 1.2 km west of Sakata station.
In Japanese, both "o"s in the word are pronounced long, so it is read as "Sômarô".
This restaurant was built as "ryotei" in 1808.
Ryotei refers to a high class restaurant serving mainly Japanese cuisine.
It is mainly used as receptions of enterprise, business negotiations, etc.
There are some Japanese-style private rooms, and each guest uses a room.
Meals and drinks are served.
Geisha girls are sometimes called for the entertainment.
Unfortunately, in 1995, this ryotei had been closed in the flow of the times.
On the other hand, the traditional buildings were designated as the nation's registered tangible cultural properties in 1996.
But a company in Sakata bought this buildings for keeping the culture of Ryotei in Sakata.
Then, current Somaro opened as a tourist attraction in 2000.
You can observe the inside of this ryotei as cultural property.
There is a cafe in a room.
And, you can have a lunch if you make a reservation in advance.
In addition, the dance performance by Geisha girls are held in 14:00 every day.
There is Takehisa Yumeji Museum in Somaro.
Takehisa Yumeji (1884-1934) was a Japanese‐style painter, and his beautiful women paintings are popular.
You can see some works of Yumeji.
How to get here
Walk for 1.2 km from JR Sakata station. (About 20 minutes)
Hotels in Sakata city
Other Tourist Attractions in Sakata city