Amedaki is a waterfall located about 20 km east of Tottori city.
It is on a small tributary on the upper reaches of Fukuro River flowing around Tottori city, and is at an altitude of about 500 meters.
The waterfall is about 40 meters, and much water falls vigorously.
"Ame" in the word means "rain", and the sprash near the waterfall is like rain.
There is a few valleys around Amedaki, and it is said that 48 waterfalls around Amedaki.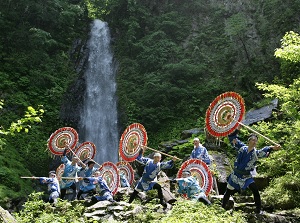 Umbrella Dance in front of Amedaki
Photo : ©Tottori Pref.
The area around this waterfall has been a place where a Buddhist priest practices asceticism since ancient times.
On the first weekend in June, Shinto ritual is held and Umbrella Dance which is a traditional dance in Tottori is also held.
It is said that the sacred water of Amedaki has the effect to protect the skin.
There is a walking trail about 150 meters long from a parking lot to Amedaki.
How to get here
By route bus for Yamazakibashi, about 20 minutes from Tottori station to Nakagawara stop.
At Nakagawara stop, the bus connects with shared taxi using a car of van type.
It takes 20 minutes, but reservation by phone is requested by an hour before the departure.
(Telephone number : 0857-22-2121)
From Amedaki stop to the parking lot near the waterfall, about 1.8 km walk.
Hotels around Tottori city
Other Tourist Attractions in Tottori Prefecture