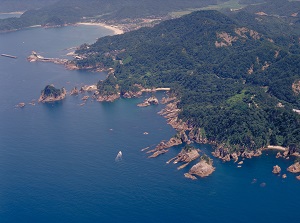 Uradome Coast
Photo : ©Tottori Pref.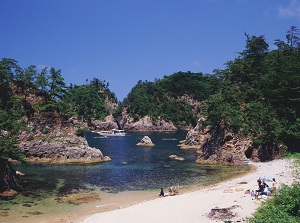 Uradome Coast
Photo : ©Tottori Pref.
Uradome Coast is a ria coast about 15 km long, and is located to the northeast of Tottori Sand Dunes.
It is a part of San-in Kaigan National Park.
Especially the coastline about 4 km long in the western part has many small rocky islands, cliffs, caves and sand beaches.
It is a national-designated site of scenic beauty and natural monument.
This coast is a part of San-in Kaigan Geopark.
Geopark is a unified area that advances the protection and use of geological heritage in a sustainable way, and promotes the economic well-being of the people who live there.
In Japan, there are nine geoparks now.
San-in Kaigan is a coast about 120 km long.
The western end is Hakuto Coast.
Tottori Sand Dunes and Uradome Coast are included.
And, the eastern end is the west side of Wakasa Bay.
About 25 million years ago, Japanese Islands were divided from Eurasian Continent.
San-in Kaigan shows the geological features at that time and the history of the movement of the earth's crust after that.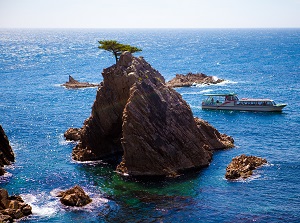 Sengan-Matsushima
Photo : ©Tottori Pref.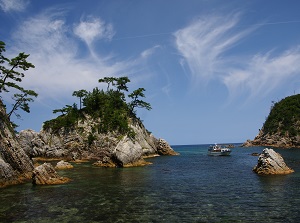 Kamogaiso
Photo : ©Tottori Pref.
The western entrance of the coast is at the mouth of Gamou River about 10 km northeast of the center of Tottori city.
There is Ajiro fishing port, and the walking trails along the coast starts around the port.
There is the boarding point of pleasure boat touring around Uradome Coast is operated.
It takes 40 to 50 minutes to cruise around the coast.
Sengan-Matsushima (千貫松島) is just to the north of Ajiro port, and is a large rock near the coast.
It has a big sea cove and there is a pine tree on the top.
There is Ajiro Observatory (網代展望台) about 0.2 km north of Sengan-Matsushima.
It is on the steep cliff about 70 meters high.
Kamogaiso (鴨ヶ磯) is a small sand beach about 1.5 km east of Ajiro Observatory.
There are some unique rock walls and a sea cove.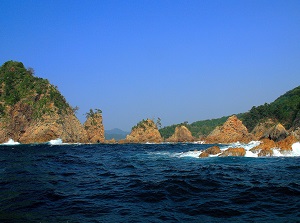 Natane Islands
Photo : ©Tottori Pref.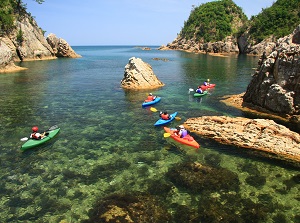 Sea kayaking in Uradome Coast
Photo : ©Tottori Pref.
Natane Islands (菜種島) is located about 0.5 km north of Kamogaiso.
A rocky cape was eroded by the waves, and became five small islands.
There is a flat sand beach about 2 km long to the west of above rocky coast and it is a swimming beach in summer.
And the area around the beach is the center of Iwami town.
Recently, experience of sea kayaking is popular, so there is the shop around the beach.
From May to October, you can try the sea kayaking to Uradome coast.
How to get here
By route bus for Kaburajima, about 43 minutes from Tottori station to Shima-meguri-yuransen-noriba-mae stop (Near the boarding point of pleasure boat).
For sea kayaking, go to Iwami town.
By JR San-in Line, about 24 minutes from Tottori to Iwami.
"Nagisa Koryukan" located about 2.5 km north of the station produces the tour of sea kayak.
Hotels around Iwami town
Other Tourist Attractions in Tottori Prefecture