White Wall District in Kurayoshi [
倉吉白壁土蔵群

]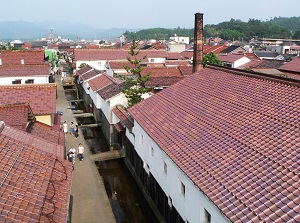 Utsubuki-Tamagawa district
Photo : ©Tottori Pref.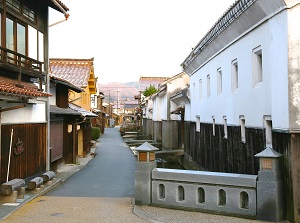 Street along Tamagawa
Photo : ©Tottori Pref.
White Wall District is an old town in Kurayoshi city, and the formal name of the district is Utsubuki-Tamagawa (打吹玉川).
Kurayoshi city is located in the center of Tottori Prefecture, and is about 40 km west of Tottori city.
The central area is about 10 km inland from the Sea of Japan, and is in a basin around the confluence of two rivers.
Small Tamagawa river like an irrigation channel flows through the old town from west to east.
There are many old warehouses and houses around Tamagawa river.
Around 1370, Utsubuki Castle was built on the top of Mount Utsubuki (204 m) just to the south of the town.
In the 17th century, the town of Kurayoshi developed as a castle town and the center of commerce and industry in this area.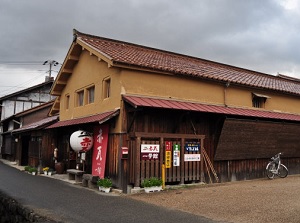 Former Shoyu Brewery (Akagawara Ichigokan)
Photo by Railstation.net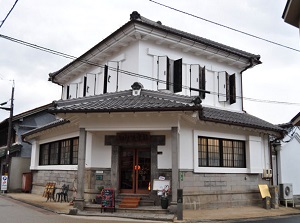 Former Bank
Photo by Railstation.net
The central area is designated as a Preservation District for Groups of Historic Buildings.
The area is about 600 meters along Tamagawa from east to west and about 150 meters from north to south.
There are about 100 old buildings built from the 17th century to the early 20th century in this district.
They are warehouses, old shops, breweries of Sake or Shoyu (soy sauce), etc.
Some small Buddhist temples are also dotted in the town.
Especially, the warehouses near Tamagawa river are attractive.
They have white plaster wall with black wooden boards.
The roof tiles are reddish brown, and they were produced in the west part of Shimane Prefecture.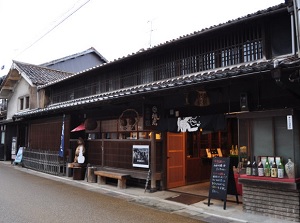 Former Sake Brewery
Photo by Railstation.net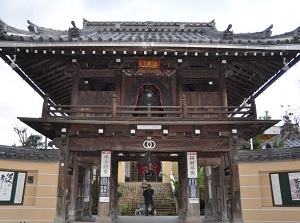 Dairenji temple
Photo by Railstation.net
For tourists, there are restaurants, cafes, souvenir shops in the old buildings.
In addition, Kurayoshi-Gasuri (倉吉絣) is a traditional textile in this town.
The tour wearing Kimono of Kurayoshi-Gasuri and walking around the old town is held.
How to get here
By JR San-in Line, from Tottori to Kurayoshi, about 30 minutes by limited express, about an hour by local train.
From Yonago to Kurayoshi, about 35 minutes by limited express, about 1 hour and 10 minutes by local train.
Then, by route bus, about 12 minutes from Kurayoshi station to Akagawara-Shirakabe-Dozou stop.
(The distance from Kurayoshi station to the town is about 4 km.)
Other Tourist Attractions in Tottori Prefecture