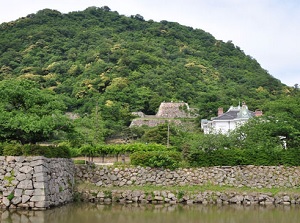 Mount Kyusho & ruin of Tottori Castle
Photo by Railstation.net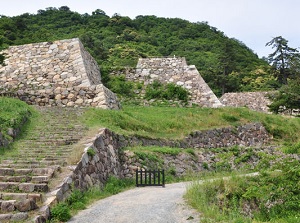 Ruin of Tottori Castle
Photo by Railstation.net
Tottori city is located at the northeast part of the prefecture and is the capital of Tottori Prefecture.
Tottori Castle was built in the 16th century, then this city has developed as a castle town.
In 1943, during World War II, a great inland earthquake occured around Tottori city.
More than a thousand people died, and the old buildings had been destroyed completely.
In April 1952, just when recovering from the earthquake was completed, a great fire occured.
Half of the city had been burned down.
After that, the city was reconstructed on the basis of new urban planning.
Thete is Mount Kyûshô (久松山, 263 m) just to the northeast of the center of Tottori city.
Ruin of Tottori Castle (
鳥取城跡

)

Tottori Castle was built in the 1530s.
The castle tower was constructed on the top of Mount Kyûshô and was demolished in 1879.

The foot of the mountain was included in the castle, so some stone walls and a moat remain.
There is a spheric part of the walls, and it is very unique as Japanese castle.
Jinpûkaku (
仁風閣

)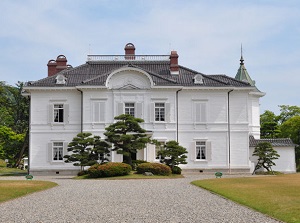 Jinpukaku
Photo by Railstation.net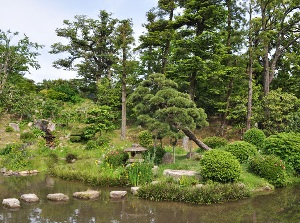 Japanese garden in Jinpukaku
Photo by Railstation.net
Jinpûkaku is a Western-style building on the site of former Tottori Castle.
It was built as the rest house for Emperor Taisho in 1907, and was used as a guesthouse or a public hall.
It was damaged by the earthquake in 1943, but was repaired soon.
It is opened to the public as the museum.
On the mountain side, there is a Japanese garden constructed in 1863.
Tottori Tôshôgû (
鳥取東照宮

)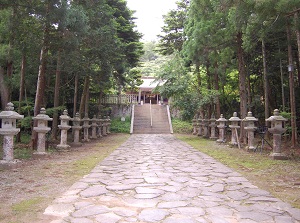 Approach to Tottori Toshogu
Photo : ©Tottori Pref.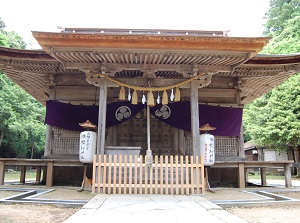 Main shrine of Tottori Toshogu
Photo : ©Tottori Pref.
Tottori Tôshôgû is a Shinto Shrine located about 1.5 km southeast of Jinpûkaku, and is in a narrow valley.
It had been called Ôchidani Shrine (樗谿神社) until 2011.
The shrine was built by Ikeda Mitsunaka (1630-1693), the first lord of Tottori Clan, in 1650.
Main shrine, front shrine, and Karamon gate are designated as national important cultural properties.
The area along the approach about 400 meters long is Ôchidani Park.
Kannon-in temple (
観音院

)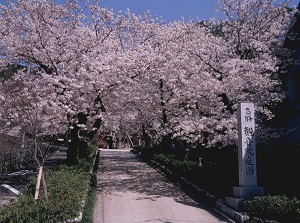 Entrabce of Kannon-in in spring
Photo : ©Tottori Pref.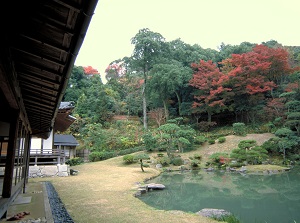 Japanese garden of Kannon-in
Photo : ©Tottori Pref.
Kannon-in is a Buddhist temple of Tendai school which was introduced to Japan from China.
It is located about 0.7 km south of Tottori Tôshôgû.
The temple was founded in the 1630s.
The Japanese garden completed around 1660 is attractive.
How to get here
By JR limited express, about 2 hours from Okayama.
Or, by JR limited express of San-in Line, about 2.5 minutes from Osaka, about 3 hours from Kyoto.
By airplane, about 1 hour and 10 minutes from Tokyo (Haneda) to Tottori Airport.
Then, By route bus, about 15 minutes to the center of Tottori city from the airport.
Hotels around Tottori city
Other Tourist Attractions in Tottori Prefecture