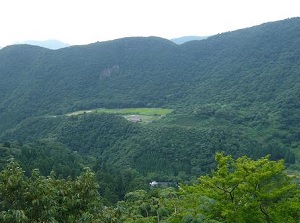 Mount Mitoku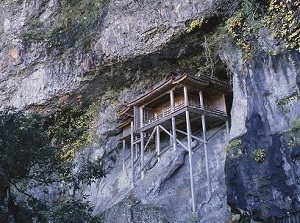 Nageiredo of Sanbutsuji
Sanbutsuji is a temple of Tendai Buddhism which was introduced to Japan from China.
The formal Chinese characters of the name are "三佛寺".
It is located about 7 km east of Misasa Onsen and in the deep mountain.
It is said that the temple was founded in 706.
High priest En-nin enshrined three Buddha statues and gave this temple the name of "Sanbutsuji" (Temple of three Buddha) in 849.
The temple is on the slope of Mount Mitoku (900 m).
Whole of the mountain is the temple grounds.
At the foot of the mountain, there are main temple and other some buildings.
But well-known building in this temple is Nageiredo (投入堂).
It is designated as a natioanl treasure.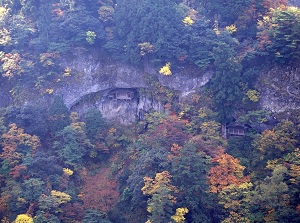 Nageiredo in Mount Mitoku
Photo : ©Tottori Pref.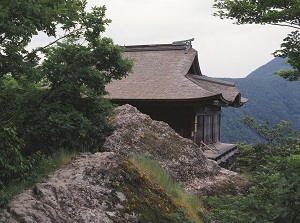 Monjudo on the way to Nageiredo
Photo : ©Tottori Pref.
Nageiredo is built on the rocky cliff wall of Mount Mitoku.
The length of the way from the main temple to Nageiredo is only about 900 meters.
But it is at the level of about 200 meters above the foot.
It is assumed that the unique temple was built in the late 11th century.
The temple is put on a wooden floor 5.4 meters long and 3.9 meters wide, and some wooden pillars carry the temple on the steep rocky wall.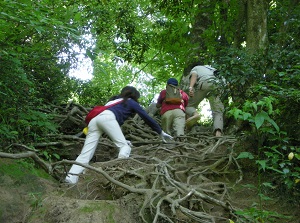 Climbing route to Nageiredo
Photo : ©Tottori Pref.

Nageiredo in Sanbutsuji
Photo : ©Tottori Pref.
The visitors must climb the rocky cliffs and very steep way.
When you visit Nageiredo, you must submit a request for visit at the office of the temple.
Sanbutsuji regards visiting Nageiredo as Buddhist training.
Dress with skirt is prohibited, and you must wear the shoes for trekking.
You had better wear the work gloves.
Additionally, only one visitor is not accepted.
The group of over two visitors is required.
But some visitors have taken a misstep and fallen into the foot in the past.
We can go close to Nageiredo, but we cannot enter the temple because of the dangerous place.
On the route to Nageiredo, there are some small temples such as Noukyodo, Monjudo, Jizoudo.
How to get here
By JR San-in Line, from Tottori to Kurayoshi, about 30 minutes by limited express, about an hour by local train.
From Yonago to Kurayoshi, about 35 minutes by limited express, about 1 hour and 10 minutes by local train.
Then, by route bus, about 35 minutes from Kurayoshi station to Mitokusan stop.
Other Tourist Attractions in Tottori Prefecture