Tottori Sand Dunes [
鳥取砂丘

]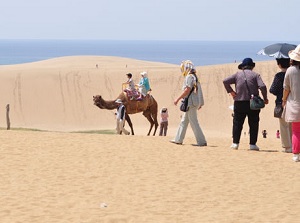 Tottori Sand Dunes
Photo by Railstation.net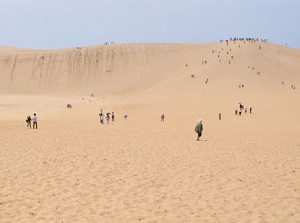 High hill in Tottori Sand Dunes
Photo by Railstation.net
Tottori Sand Dunes ("Tottori Sakyû" in Japanese) are the sand dunes along the Sea of Japan.
It is located about 5 to 7 km north of the center of Tottori city.
Tottori Sand Dunes are one of the largest sand dunes in Japan.
It is designated as a national natural treasure.
The other sand dunes in Japan are like wide sand shore, but Tottori Sand Dunes are attractive.
The sand dunes were created by sediment deposits carried by Sendai River into the Sea of Japan.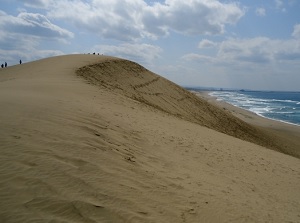 Tottori Sand Dunes and Sea of Japan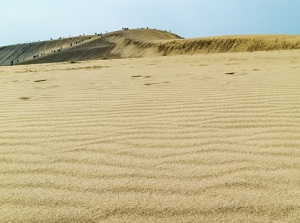 Ripple marks on Tottori Sand Dunes
The length is about 16 km and the width of the widest part is 1.5 to 2.5 km.
The area extends to the both sides of the river, but the attractive area is about 2 km wide on the east side.
The area is undulating, and the difference in height is about 90 meters.
We can see the view like desert.
In Japan, such view is uncommon.
And we may find beautiful wind ripples on the sands.
For sightseeing, the tours on a camel and on a horse cart are available.
And, as the sports, visitors can enjoy fat bike tour, sand boarding and paragliding.
In addition, graffiti on the sand dunes is prohibited.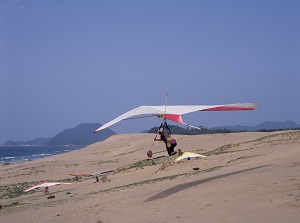 Paragliding in Tottori Sand Dunes
Photo : ©Tottori Pref.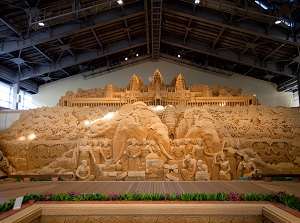 A work in Sand Museum
Photo : ©Tottori Pref.
The main entrance to the sand dunes is on the eastern edge, and there are some facilities for tourist.
Visitor Center introduces the information about the sand dunes.
Sakyu Center is a commercial facility on a hill and has the observatory room, restaurant and souvenir shop.
Sand Museum is a unique art museum.
It displays many elaborate statues made of sand.
The works are famous and popular sculptures, buildings, sceneries, etc. in the world.
How to get here
By route bus, about 22 minutes from Tottori station.
Hotels around Tottori Sand Dunes
Other Tourist Attractions in Tottori Prefecture