Misasa Onsen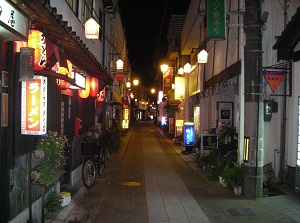 An alley in Misasa Onsen town
Photo : ©Tottori Pref.
Misasa Onsen is a hot spring resort located about 8 km east-southeast of central Kurayoshi city, and is about 9 km from JR Kurayoshi station.
It is in a flat valley formed by Mitoku River and more than 20 hotels and ryokans are along the river.
It is said that this hot spring was found in 1164.
Minamoto Yoritomo (1147-1199) was a military commander and he founded Kamakura government in 1192.
In the 1160s, about 30 years before the foundation, many members in Minamoto Clan had been driven into exile on charges of attempting a coup.
A retainer of Yoritomo came to Sanbutsuji temple to pray for rebuilding Minamoto Clan.
On the way, he met an old white wolf, so he tried to shoot an arrow at the wolf.
But he didn't shoot because he thought that he shouldn't kill any living creature, then the wolf escaped into somewhere.
That night, Buddha appeared in his dream.
Buddha thanked him for helping the wolf which was the Buddha's messenger.
And Buddha told him the place of a sacred hot spring.
Next day, he found the hot spring.
The hot spring became popular for curing the illness.
It is Misasa hot spring.
In fact, the water of the spring contains radium and radon, so it is one of world's leading radioactive spring.
Therefore, there are several recuperation facilities around this resort.
It is said that the radioactive spring activates operation of cells to improve immune strength and natural healing power.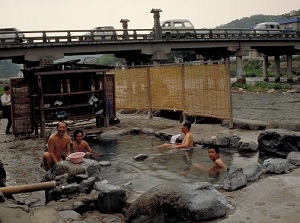 Kawaraburo in Misasa Onsen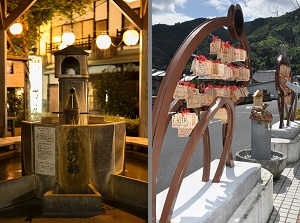 Foot bath and Koitani-bashi
Photo : ©Tottori Pref.
On the riverside, there is a public outdoor bath Kawaraburo (河原風呂).
It is the symbol of Misasa Onsen.
There is a bath on the open riverbed.
Misasa Bridge and some hotels are near the bath, so it is in full view.
But the bath is surrounded only with small partitions.
Of course, we are available free of charge.
Men and women can have a bath together.
Because it is the manner to bathe in nude, women need a courage to bathe.
For the visitor, next to the partitions, there is a footbath.
There is Koitani-bashi bridge (恋谷橋) about 300 meters east of Misasa Bridge.
When this bridge was completed in 1961, Ambassador of France named the bridge "La Vallee de l'Amour" (Valley of Love).
The Japanese word is "Koitani".
There is a statue of Japanese frog on the bridge.
It is said that you will succeed in love if you rub the head of the frog.
How to get here
By JR San-in Line, from Tottori to Kurayoshi, about 30 minutes by limited express, about an hour by local train.
From Yonago to Kurayoshi, about 35 minutes by limited express, about 1 hour and 10 minutes by local train.
Then, by route bus, about 20 minutes from Kurayoshi station to Misasa-onsen stop.
Other Tourist Attractions in Tottori Prefecture