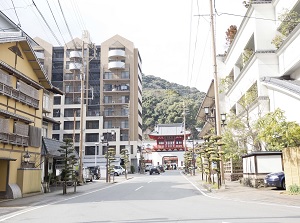 Street of Takeo Onsen
Photo: Kyushu Tourism Promotion Organization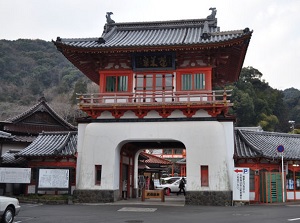 Roumon in Takeo Onsen
Photo by Railstation.net
Takeo Onsen is a hot spring resort, and is located in Takeo city in the west part of Saga Prefecture.
It is located about 30 km west of Saga city.
It is said that this hot spring was opened around the 8th century.
And several historical figures visited here.
The onsen town is located at the foot of the mountains 600 to 900 meters west of JR Takeo-onsen station.
There are more than a dozen hotels and ryokans in the onsen town.
In the center of the onsen town, there is Roumon gate (楼門).
It was built in 1914, and is the symbol of Takeo Onsen.
By Roumon, there is Takeo-onsen Shinkan (武雄温泉新館) built in 1914.
It had been the central public bathhouse in Takeo Onsen until 1973.
And it was repaired and was opened as a museum in 2003.
These buildings were designed by Tatsuno Kingo (1854-1919) from Saga Prefecture, and are designated as national important cultural properties.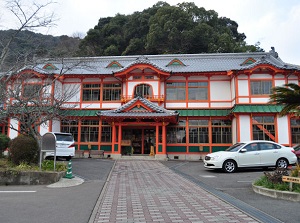 Takeo-onsen Shinkan in Takeo Onsen
Photo by Railstation.net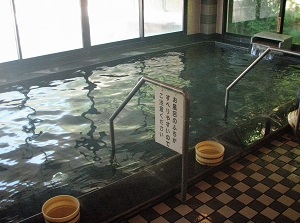 Bathroom in Saginoyu in Takeo Onsen
Photo by on-photo.com
Tatsuno was an excellent architect and he designed some well-known buildings such as Tokyo station, Bank of Japan in Tokyo.
There are three public bathhouses in the onesen town.
They are Motoyu (元湯), Hôraiyu (蓬莱湯) and Saginoyu (鷺乃湯).
And There area Tonosamayu (殿様湯) and Karouyu (家老湯) as the rental bathhouses.
They were originally built for Nabeshima family, the lord of Saga area in the 18th century.
We can rent the bathroom at 3,000 to 3,800 yen per an hour.
How to get here
By the limited expresss of JR Nagasaki Line, about 60 to 70 minutes from Hakata.
Hotels around Takeo Onsen
Other Tourist Attractions in Saga Prefecture