Yoshinogari site [
吉野ヶ里遺跡

]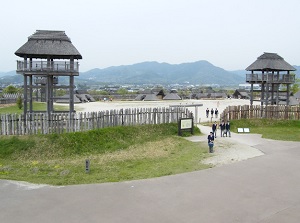 South area in Yoshinogari Historical Park
Photo by Railstation.net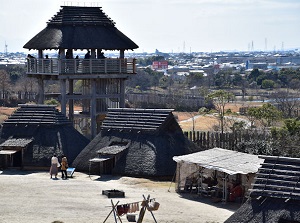 Restored houses in Yoshinogari
Photo by Railstation.net
Yoshinogari is a large and complex archaeological site in Yayoi Period.
It is located about 13 km northeast of Saga city.
Yayoi Period is one of the primitive ages in Japan, and was from about the 10th century B.C. to about the 3rd century A.D.
During this period, rice cultivation transmitted from the other areas in Asia and spread throughout Japan.
Around the 4th century B.C., a small village was formed in Yoshinogari.
In the 2nd to 1st centuries B.C., a moat surrounding the village were constructed, also some ancient burial mounds were built.
In the 2nd to 3rd centuries A.D., one more moat was constructed and they were enlarged.
And many large buildings were built.
But the village dispersed around 4th century.
The moats became the disposal yards for earthen vessels.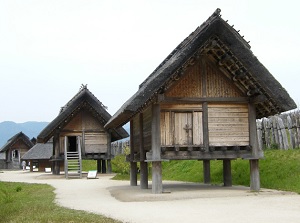 Restored storehouses in Yoshinogari
Photo by Railstation.net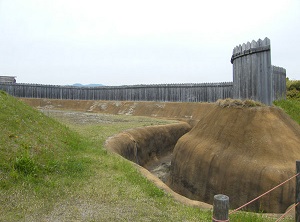 A moat in Yoshinogari
Photo by Railstation.net
From the late 19th century, antiquities were sometimes found around this site.
But this ruin didn't attract attention.
In the early 1980s, the archaeological research around this area was conducted to construct an industrial complex.
In the result, it became clear that the ruin was very large and had an area of about 59 hectares.
Since that, this site became an important ruin, and it was decided to construct the national historical park on this site in 1992.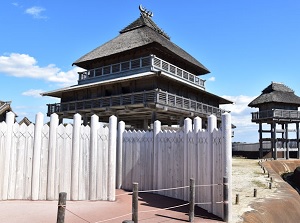 Restored central palace in Yoshinogari
Photo by Railstation.net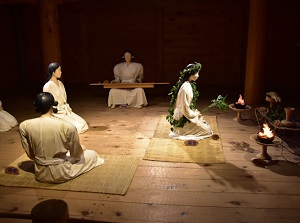 Reproduction of a ceremony in the palace
Photo by Railstation.net
Now, we can visit this site as the visitors to Yoshinogari Historical Park.
At present, this park is about 0.8 km from east to west and about 1.3 km from north to south in width.
The moats, pit houses, stilt houses, watchtowers, burial mounds have been restored in this site.
How to get here
By local train of JR Nagasaki Line, to Yoshinogari-koen station, 11 minutes from Shin-Tosu (station of Kyushu Shinkansen), 11 minutes from Saga.
From Yoshinogari-koen station, about 20 minutes walk (1.2 km).
Hotels around Yoshinogari site
Other Tourist Attractions in Saga Prefecture