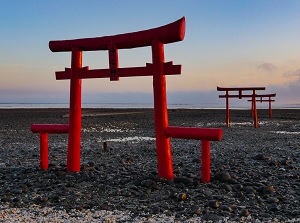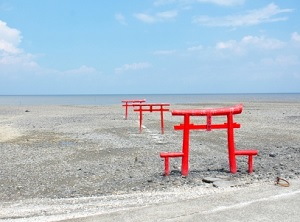 Ouo Shrine is a small local Shinto shrine.
Leading "o" in the word is pronounced long, so it is read as "Ôuo jinja" in Japanese.
The shrine is in Tara town located about 40 km south of Saga city and about 11 km southeast of Yutoku Inari Shrine.
The small main shrine is near the coast facing Ariake Sea and is about 500 meters north of JR Tara station.
"Ôuo" means "big fish".
And, there are a few rocks "Okinoshima" in Ariake Sea about 6 km northeast of the shrine.
About 300 years ago, there was a bailiff and he had oppressed people in this village.
At last, the village people decided to punish him.
The people invited him to Okinoshima and had a drinking party on the rocks.
The bailiff had been drunk.
The village people left him on the rock and returned to the mainland.
The tide began to flow rapidly.
He regreted what he had done, and called for help.
At that time, a big fish appeared from the sea.
The fish helped him and carried him on the back to the mainland.
The reformed bailiff established Ôuo Shrine by the shore and built three Torii gates in the sea near the shrine in the direction of Okinoshima.
Since that, this shrine became a protective god of sea in the village.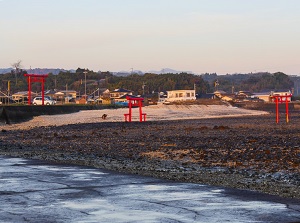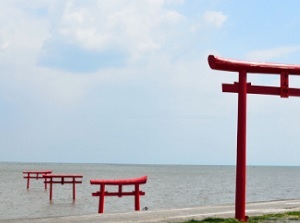 There are three Torii gates by the shore.
In Ariake Sea, the difference between high and low tide is large.
So the most part of Torii gates is under the sea at high tide.
In the calm sea, the scene is attractive and mysterious.
The Torii gates have been rebuilt every 30 years.
Current Torii gates was rebuilt in 2012.
How to get here
By JR limited expresss for Nagasaki, to Hizen-Kashima, about 60 to 70 minutes from Hakata, about 20 minutes from Saga.
Then, by route bus for Takezakiko, 26 minutes from Hizen-Kashima station to Tara-Sakaemachi Kaichu-Totii-mae stop.
From Hizen-Kashima, JR local train is also available to Tara station.
But it is operated once per 4 hours in the daytime.
Hotels around Tara station
Other Tourist Attractions in Saga Prefecture