Hamanoura Rice Terrace [
浜野浦の棚田

]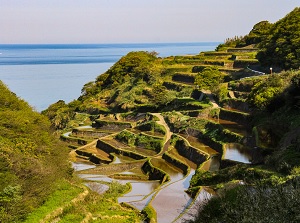 Hamanoura Rice Terrace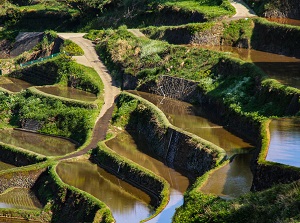 Rice fields in Hamanoura Rice Terrace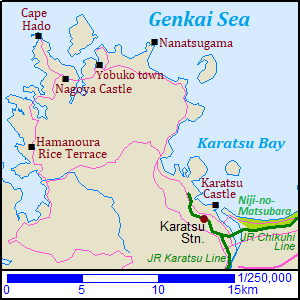 Hamanoura Rice Terrace ("Hamanoura no Tanada" in Japanese) is in Hamanoura district in Genkai town.
It is located about 18 km west-northwest of the center of Karatsu city.
Hamanoura district is on the slope in a narrow valley near a small inlet.
283 small rice fields are arranged in a staircase pattern.
The total size is about 11.5 hectares in area.
It is assumed that the rice terrace was constructed around the end of the 16th century when Nagoya Castle about 6 km north of this district was constructed.
The planting work is done from mid-April to early May every year.
At that time, each rice field is filled with water.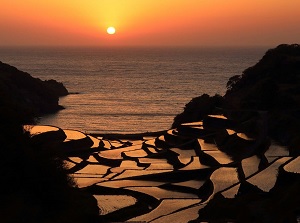 Hamanoura Rice Terrace at sunset
Photo: Karatsu Tourism Association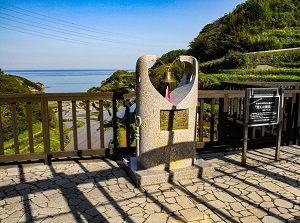 Observatory near Hamanoura Rice Terrace
The rice terrace faces west.
We can enjoy a view of the Genkai Sea from the rice terrace, and the water of the rice fields reflecting the sunlight is beautiful.
A observatory for the good view is set up near the rice terrace.
How to get here
From Karatsu station, by route bus for Kanenote, 33 minutes to Kanenote stop (Maizuru 9 supermarket).
Change to the bus for Genkai Energy Park.
About 13 minutes from Kanenote to Hamanoura-no-Tanada stop.
But it is operated only a few times mainly in the afternoon.
Hotels around Genkai town
Other Tourist Attractions in Saga Prefecture