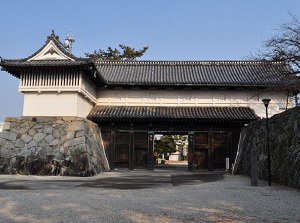 Shachi-no-mon of Saga Castle
Photo by Railstation.net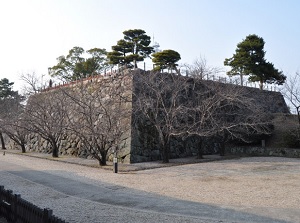 Ruin of Castle tower of Saga Castle
Photo by Railstation.net
Saga Castle was a castle located about 2 km south of JR Saga station in the caenter of Saga city.
When Edo government was established, Nabeshima Naoshige (1538-1613) became the lord of Saga area.
He started the construction of Saga Castle in 1602, and Nabeshima Katsushige (1580-1657, Naoshige's son) completed the castle in 1618.
The buildings in the castle were destroyed in 1726 and 1835, and the castle tower was not rebuilt.
After modern Meiji government was established, most buildings in the castle has been destroyed by the civil war in Saga city.
The site of the castle was roughly square with about 800 meters per side and was surrounded by a wide moat.
Most parts of the site are already used as prefectural office, schools and museums, and the ruin of the castle is only in the southeast part of the site.
Shachi-no-mon gate (鯱の門) is only original building and was rebuilt in 1836.
It was the gate to the central area of the castle.
The stone walls of the castle tower remain to the west of Shachi-no-mon.
By the excavation and research, the castle was relatively big and was five stories high.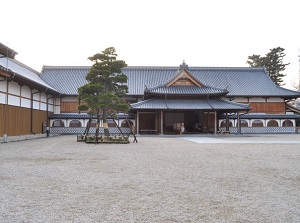 Honmaru-goten of Saga Castle
Photo by Railstation.net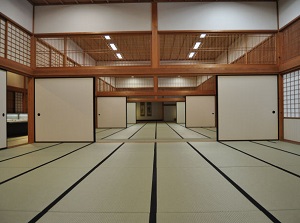 Rooms in Honmaru-goten
Photo by Railstation.net
And there was Honmaru-goten (本丸御殿) near the castle tower.
It was the palace for the lord of the castle.
A part of Honmaru-goten was restored with wood in 2004.
It is opened to the public as a history museum and we can see the rooms of the lord.
How to get here
By route bus, about 10 minutes from JR Saga station.
Hotels around Saga Castle
Other Tourist Attractions in Saga Prefecture