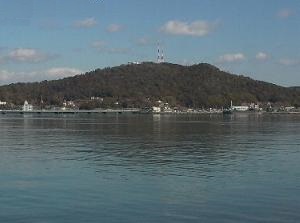 Mount Godai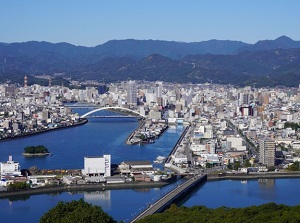 View of Kochi city from Mount Godai
Mount Godai is a small mountain 146 meters high above sea level.
It is located about 4 km southeast of Kochi station.
In Japanese, it is called Godaisan.
Its kanji characters are the same as "Mount Wutai" which is a sacred mountain in China.
In 724, Emperor Shomu dreamed that he worshipped Buddha in Mount Wutai.
Then he ordered high priest Gyoki to find a mountain similar to Mount Wutai.
Gyoki found this mountain as a sacred mountain.
He established Chikurinji temple (竹林寺) on the top.
In the 800s, high priest Kuukai (774-835) stayed in this temple to do ascetic training.
So this temple is designated as the 31th temple of "88 temples of Shikoku Pilgrimage".
The area around the top is a park, and there is an observatory.
Chikurinji is on the eastern slope of the mountain.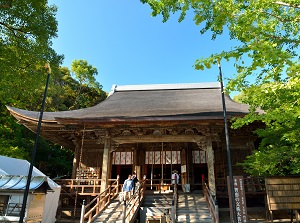 Main temple of Chikurinji
Photo by Kochi Visitors & Convention Association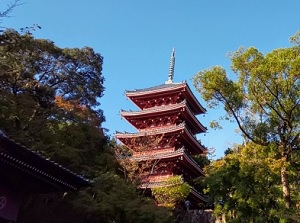 Five-storied Pagoda of Chikurinji
In the precinct, there are Hondo (本堂, Main hall), Daishido (大師堂), and a few buildings.
Five-storied Pagoda about 31 meters high is attractive.
The temple has a Japanese garden constructed in 1318.
It is designated as National Scenic Beauty.
How to get here
A route bus for tourist "My-yu Bus" is operated every about an hour.
From Kochi station, 24 minutes to the observatory, 29 minutes to Chikirinji.
To use bus, you must buy one-day ticket (1,000 yen).
But if you show your passport, you can byu it at half the price.
Other Tourist Attractions in Kochi Prefecture