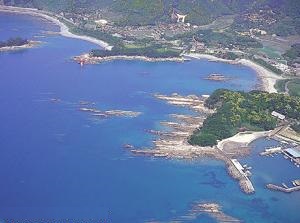 Tatsukushi coast
Photo by Kochi Visitors & Convention Association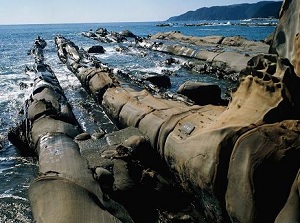 Otake-kotake in Tatsukushi
©JNTO
Tatsukushi is a coast with strange rocks.
It is located to the west of the center of Tosa-Shimizu city.
And it is located about 20 km northwest of Cape Ashizuri.
Around this coast, sandstone and mudstone have been deposit alternating layers.
And erosion by waves of the sea has created the strange and unique rocks.
Especially the rocky shore of Ôtake-kotake (大竹小竹) is attractive in Tatsukushi coast.
The name means "Large and small bamboos".
It looks as if many huge bamboos are laid on th shore.
Along the coast, a walking trail is set up.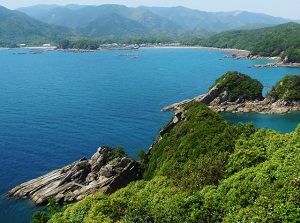 Minokoshi coast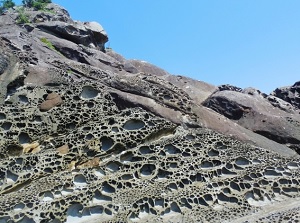 Rocks like honeycomb in Minokoshi coast
There is Minokoshi coast (見残し) about 2.5 km south of Tatsukushi.
It is located on the west side of a small peninsula, and we can visit only by pleasure boat from Tatsukushi.
This coast has also many strange rocks.
But unlike Tatsukushi coast, Minokoshi's rocks has many folds and holes like honeycomb.
So the impression of the scenery is softer than Tatsukushi.
"Minokoshi" means "leaving without seeing".
In the 790s, high priest Kuukai traveled around Shikoku island for ascetic training of Buddhism and visited this area.
But it is said that he couldn't see these rocks because it was vary hard to come this coast.
The sea around Tatsukushi is designated as a national marine park.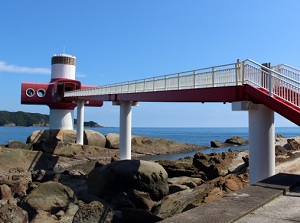 Ashizuri Kaiteikan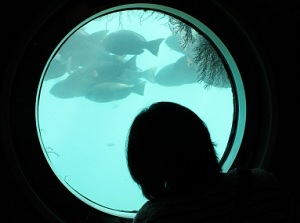 Observatory room in Ashizuri Kaiteikan
There is Ashizuri Kaiteikan (足摺海底館) which is an underwater observation tower to the west of Tatsukushi coast.
The enormous warm current flows near Shikoku Island, so we can see corals and tropical fishes.
How to get here
By JR limited express, about 1 hour and 40 to 50 minutes from Kochi to Nakamura.
(The line from Kobokawa is Tosa Kuroshio railway, and is connected to JR Dosan Line.)
Then, by route bus, about 1 hour from Nakamura station to Tosa-Shimizu bus terminal.
Change to the bus for Sukumo, about 20 minutes to Tatsukushi.
Hotels around Tosa-Shimizu city
Other Tourist Attractions in Kochi Prefecture