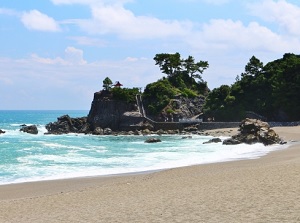 Katsurahama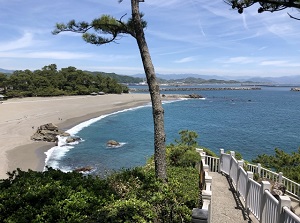 Katsurahama from the cape
Katsurahama is a beach about 500 meters between small capes.
It is located about 10 km south of the center of Kochi city.
This beach is at the mouth of Urado Cove and faces broad Tosa Bay.
It is one of most popular spots in Kochi city.
A low hill is around the beach, and there was Urado Castle from 1591 to 1603.
The area including the ruin of the castle is now the city park.
Since ancient times, Katsurahama has been the good place to enjoy moon viewing.
The small cape on the right of the beach is a rocky hill, and a small shrine is set up.
That forms the tasteful scenery.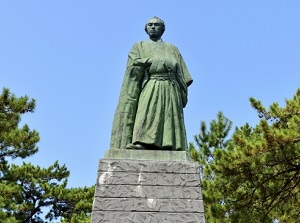 Statue of Sakamoto Ryoma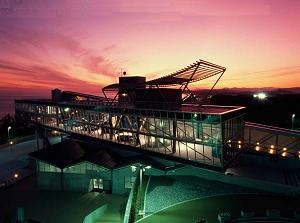 Sakamoto Ryoma Memorial Museum
©JNTO
Near the cape on the left of the beach, there is the large Statue of Sakamoto Ryoma.
Sakamoto Ryoma (坂本龍馬, 1836-1867) was a samurai born in Kochi city.
Feudal Edo Government had been disturbed because of the pressure from the strong Western countries for opening the country with policy of isolation since the 1850s.
When he was 27 years old, he escaped from the Tosa Domain which he had served.
So, he became a free samurai.
He understood the new culture of Western countries, and performed a variety of activities to change the country.
But he was assassinated soon after the realization of the new government.
In a sense, he was a maverick.
Such uniqueness in the feudal period has achieved popularity of many Japanese people and he is a hero of the people in Kochi Prefecture.
The height of the statue is 13.5 meters and was built by young volunteers in 1928.
There is Sakamoto Ryoma Memorial Museum (坂本龍馬記念館)introducing him to the west of Katsurahama.
How to get here
By route bus, 33 to 37 minutes from JR Kochi station.
Or, a route bus for tourist "My-yu Bus" is operated every about an hour.
From Kochi station, about 50 minutes to Katsurahama.
To use My-yu Bus, you must buy one-day ticket (1,000 yen).
But if you show your passport, you can byu it at half the price.
Hotels around Katsurahama
Other Tourist Attractions in Kochi Prefecture