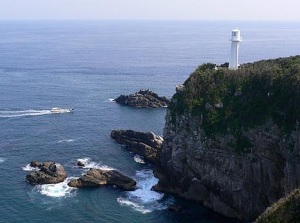 Cape Ashizuri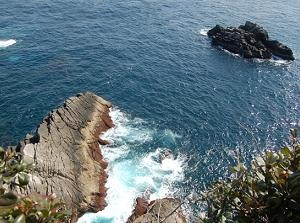 Sea below our eyes
Cape Ashizuri is a cape on the tip of Ashizuri Peninsula at the southwest part of Kochi Prefecture.
It is located about 35 km south of Shimanto city and about 120 km southwest of Kochi city.
The cape is located at the southern end of Shikoku Island.
So it has a temperate climate, and subtropical plants grow thickly.
Some of the walking trails around the cape run through the forest.
The coast around the cape is surrounded with rocky cliffs about 80 meters high.
And they are washed by wild waves of Pacific Ocean.
On the tip of the cape, there is a lighthouse about 18 meters high.
It was built in 1914, and the light reaches 20.5 nautical miles (about 38 km) far.
There is the observatory on a cliff just north of the lighthouse.
We can see a 270-degree view of the horizon of Pacific Ocean.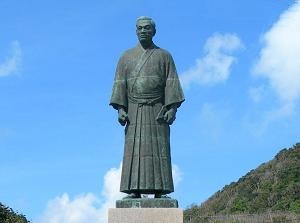 Statue of John Manjiro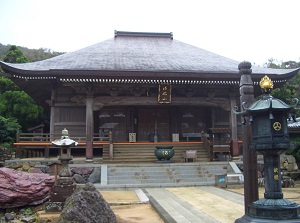 Kongofukuji
Near the observatory, a statue of John Manjiro stands.
His real name was Nakahama Manjiro (1827-1898).
Nakahama Manjiro was born near this cape.
In 1841, when he was fishing on ship at the age of 15, his ship had drifted.
He drifted down to uninhabited Torishima island in the middle of the pacific Ocean about 800 km from here.
He stayed in the island for 143 days.
Fortunately, he was rescued by American whaling ship.
He found favor with the captain and was called "John" as his nickname.
He went to U.S.A. by the ship.
He studied various new Western learning in America, and came back to Japan at the age of 25 in 1851.
He was promoted to the teacher of Western affairs by Tosa Domain (current Kochi Prefecture).
And he worked to act as a mediator of conclusion of a treaty between between Japan and U.S.A.
There is Kongofukuji temple (金剛福寺) to the north of the cape.
It is a Buddhist temple of Shingon Buddhism, and was founded by high priest Kuukai in 822.
It is designated as the 38th temple of "88 temples of Shikoku Pilgrimage" based on Kuukai's training.
How to get here
By JR limited express, about 1 hour and 40 to 50 minutes from Kochi to Nakamura.
(The line from Kobokawa is Tosa Kuroshio railway, and is connected to JR Dosan Line.)
Then, by route bus, about 1 hour and 45 minutes from Nakamura station.
Hotels around Cape Ashizuri
Other Tourist Attractions in Kochi Prefecture