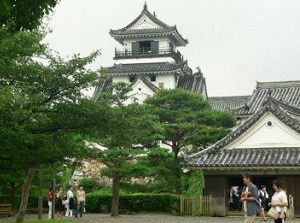 Kochi Castle and Honmaru-Goten
Photo by Railstation.net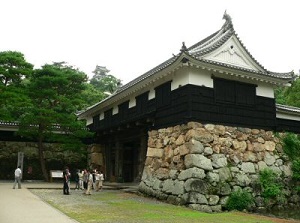 Outemon of Kochi Castle
Photo by Railstation.net
Kochi Castle is a castle located about 1.5 km southwest of Kochi station.
It was built by Yamanouchi Kazutoyo (1545-1605), the first lord in Tosa Clan, in 1603.
It was destroyed by fire in 1727, then was completed the reconstruction in 1753.
The castle tower, some buildings and gates remain.
Kochi Castle is one of 12 castles that original castle tower remain.
The castle is on a hill at about 44 meters above sea level.
The site is about 250 meters from east to west and about 200 meters from north to south.
The whole area is open to the public as a park.
On the east side, there is Outemon gate (追手門).
It is connected to the solid stone walls.
Tenshu (天守, Castle tower) is a six-storied building and was rebuilt in 1747.
Honmaru-Goten (本丸御殿) is a palace of the castle and is connected to the castle tower.
These are the main original buildings.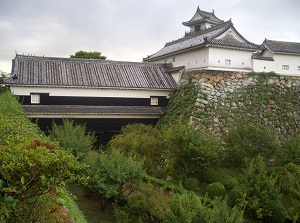 Outside of the castle tower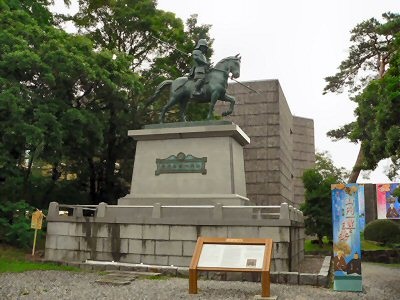 Statue of Yamanouchi Kazutoyo
Photo by Railstation.net
After construction of the castle, the castle town was formed around the castle.
In the area on the east side of Kochi Castle, samurais as the officer of the castle lived.
The street extending from Outemon gate to the east is called Oute-suji (追手筋).
Sunday Market is held along the street every Sunday, and is a popular event in Kochi city.
It has been held since 1690.
To the east of samurai area, there was an area that townspeople lived.
Harimaya-bashi (はりまや橋) is an popular spot in the area.
It is a small bridge and is located about 700 meters south of JR Kochi station and about 1 km east of Kochi Castle.
Originally, it was built to cross a moat to visit rich merchant "Harimaya" in the 17th century.
In 1850s, a young Buddhist priest in Chikurinji temple had fallen in love with a merchan's daughter.
He bought a kanzashi (Japanese hair ornament) in a shop by this bridge, and presented it to her.
The rumor of the taboo love had been woven into a folk song, then their secret came to light.
They ran off together.
But they were caught and were exiled separately.
This bridge came to be known as a stage of a tragic love.
The moat had been landfilled to improve environmental conditions around the district in the 1960s.
And the original bridge had been buried in the modern buildings.
Now, Harimaya-bashi is the center of the downtown in Kochi city.
There is a small park with an artificial waterway and rebuilt bridge is set up on the waterway.
By the way, the folk song in the story is called "Yosakoi-bushi".
So, Yosakoi Festival which is the main festival of Kochi city uses this song as the music for dance.
How to get here
To Kochi city, by JR limited express, about 2 hours and 25 to 40 minutes from Okayama, about 2 hour and 15 to 25 minutes from Takamatsu.
Hotels around Kochi Castle
Other Tourist Attractions in Kochi Prefecture