Sendai Castle (Aoba-jô) [
仙台城 (青葉城)

]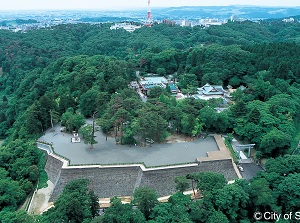 Sendai Castle Site
Photo by Sendai Tourism, Convention
and International Association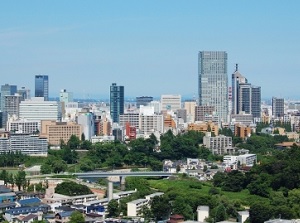 View from the site of Sendai Castle
Sendai Castle is located about 2.5 km west-southwest of JR Sendai station.
And it is about 0.5 km south of Sendai City Museum.
It is on the Aobayama hill, then this is also called "Aoba Castle" ("Aoba-jô" in Japanese).
Rather, "Aoba Castle" is the popular name and we can often find the name on the sign.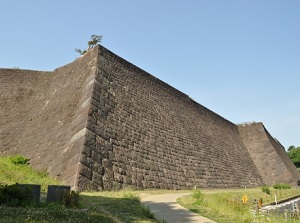 Stone wall of Sendai Castle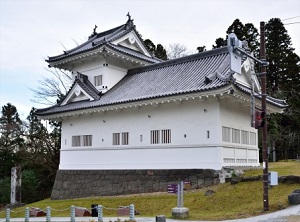 Rebuilt turret of Sendai Castle
Sendai Castle was built by Date Masamune in 1601, and had played a role of a fort during Edo period (until 1868).
After that, all buildings were destroyed by demolition in 1873 and US air raid in 1945.
Only the stone walls of the castle remained in this site.
Now the whole site is Aobayama Park (青葉山公園).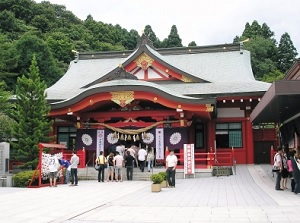 Miyagi Prefecture Gokoku Shrine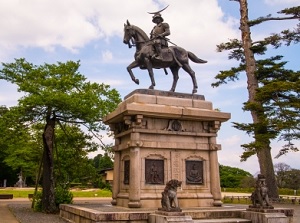 Statue of Horse-riding Date Masamune
Miyagi Prefecture Gokoku Shrine (宮城縣護國神社) was built on the site of the castle tower in 1904, and only a turret has been rebuilt at the north foot of the hill in 1964.
In front of the shrine, there is a popular Statue of Horse-riding Date Masamune (伊達政宗騎馬像).
It is the symbol of Sendai, and was built as the celebration on the 300th anniversary of the death of Masamune in 1935.
How to get here
By City loop bus "LOOPLE", get off at "Sendai-joshi" stop.
Hotels in Sendai
Other Tourist Attractions in Sendai city