Avenues of Japanese zelkova trees (Aoba Avenue, Jozenji Avenue) [
青葉通, 定禅寺通

]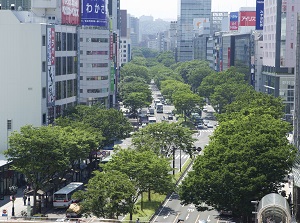 Aoba Avenue
Photo by Sendai Tourism, Convention
& International Association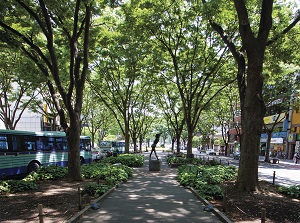 Jozenji Avenue
Photo by Sendai Tourism, Convention
& International Association
In the central area of Sendai city, there are two main avenues symbolizing the "Mori no Miyako" (City of Trees).
They are Aoba Avenue and Jozenji Avenue.
Aoba Avenue runs from the west side of JR Sendai station to the direction of west.
And, Jozenji Avenue runs in the east-west direction and is located about 700 meters north of Aoba Avenue.
There are many large Japanese zelkova trees along these avenues, and we can see the beautiful scenery.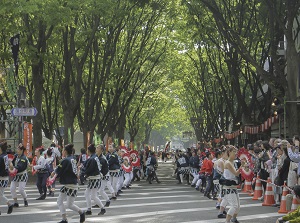 Aoba Festival on Jozenji Avenue
Photo by Sendai Aoba-Matsuri Kyosankai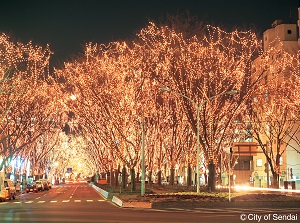 Pagent of Starlight in December
at Jozenji Avenue
Photo by Sendai City, Tourism Division
Japanese zelkova trees along Aoba Avenue were planted from around 1950 to 1965.
Japanese zelkova trees along Jozenji Avenue were planted in 1958.
Jozenji Avenue has wide medial strip, and it is used as a park.
So various events are held there.
How to get here
Aoba Avenue is near the west exit of JR Sendai station.
Jozenji Avenue is about 700 meters from Aoba Avenue.
By City loop bus "LOOPLE", get off at "Jozenji-dori Shiyakusho-mae" stop.
By subway, the nearest station is "Kôtôdai-Kôen".
Other Tourist Attractions in Sendai city