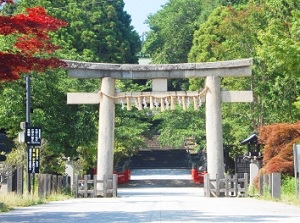 Torii gate at entrance of Toshogu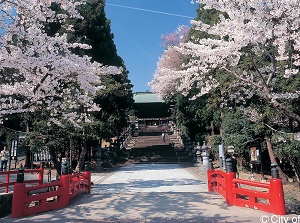 The approach of Toshogu in spring
Photo by Sendai Tourism, Convention
and International Association
Toshogu shrine is a Shinto shrine located about 2.5 km north of Sendai station.
All vowels in the word "Toshogu" are pronounced long, so it is reas as "Tôshôgû" in Japanese.
The shrine named "Toshogu" has been built for Tokugawa Ieyasu (1543-1616).
He finished long war period in Japan, and established stable and unified state.
So, after he was died, famous Nikko Toshogu was built in 1617 and he was enshrined as a God.
And he was buried at Kunozan Toshogu built in 1617 in Shizuoka city.
After that, many local lords built "Toshogu" in own territory.
This Sendai Toshogu was built by Date Munetada, the second lord of the Sendai area, in 1654.
Of course, it enshrines the God of Tokugawa Ieyasu.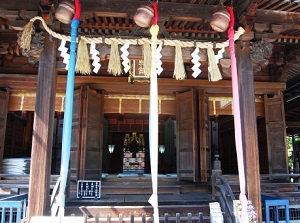 Worship Hall of Toshogu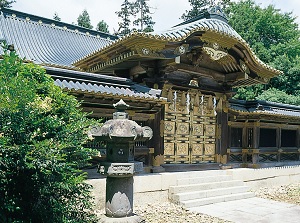 Gate to Main shrine of Toshogu
Photo by Miyagi Prefecture
The area of the shrine is not so wide.
There is a Torii gate at the entrance, and after you go straight for about 150 meters, you reach the Worship Hall.
In the precincts, there are many cherry trees.
How to get here
By JR Senzan Line, get off at Toshogu station.
It is the next station of Sendai, and about 4 minutes.
About 200 meters walk from the station.
Hotels in Sendai
Other Tourist Attractions in Sendai city