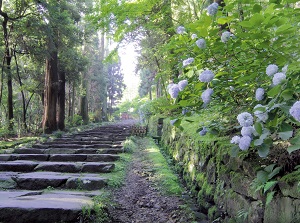 Approach to Zuihoden
Photo approved by Zuihoden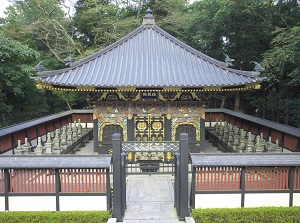 Zuihoden
Photo approved by Zuihoden
Zuihoden is the mausoleum of Date Masamune, a leading warlord in this region.
In Japanese, the vowel "o" is pronuonced long, so it is read as "Zuihôden".
It is located 1.7 km southwest of JR Sendai station.
Date Masamune (1567-1636) died at the age of 68.
His son, Date Tadamune built this mausoleum in accordance with Masamune's will in 1637.
Some glorious buildings were built and these were designated as a national treasure in 1931.
But they were destroyed by the U.S air laids in the World War II in 1945.
In the 1970s, the momentum for restoring had heightened.
So, current buildings were rebuilt in 1979.
There are some buildings of mausoleum and temple and a graveyard in the site on a hill.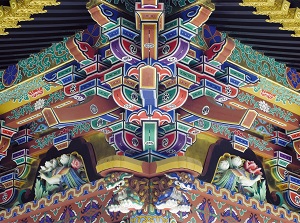 Glorious decoration of Zuihoden
Photo approved by Zuihoden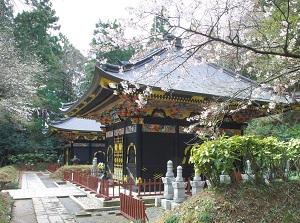 Kansenden & Zennoden
Photo approved by Zuihoden
The main mausoleum is Zuihoden enshring Masamune.
There are the mausoleums for his descendants.
Kansenden is the mausoleum of Tadamune (Masamune's son, 1600-1658), and Zennoden is the mausoleum of Munatsune (Tadamune's son, 1640-1711).
How to get here
By City loop bus "LOOPLE", get off at "Zuihoden-mae" stop.
Hotels in Sendai
Other Tourist Attractions in Sendai city