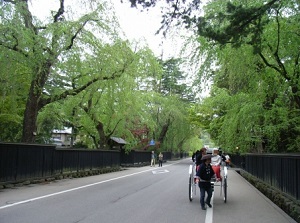 Street of Samurai town in Kakunodate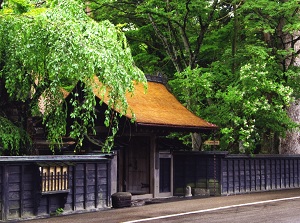 Gate of a samurai house
Photo by Akita Prefecture
Kakunodate is a town located 15 km southwest of Lake Tazawa and 45 km east-southeast of Akita city.
A castle was built on the hill to the north of current town in the 15th century.
In 1602, Ashina Yoshikatsu became the lord of this region, and he built the new town to the south of the castle.
The castle was abondoned in 1620, because it had become unnecessary.
But the town developed.
Samurai lived in the north part of the castle town, and marchants lived in the south part.
From 1656, Satake Clan became the lord of this town.
Satake Clan was related to the court nobles in Kyoto, so they introduced the cultures of Kyoto into this town.
Therefore, Kakunodate is often called Little Kyoto.
Fortunately, this town has escaped the damage by all wars in the history after that.
Therefore, this town keeps an old cityscape of those days.
Samurai Houses (
武家屋敷

)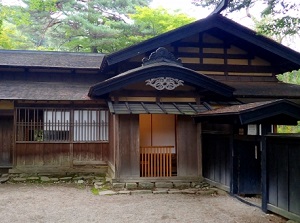 Iwahashi's samurai house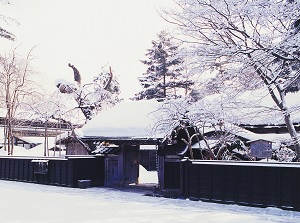 Samurai house in winter
Photo by Akita Prefecture
The former samurai town is located about 1 km northwest of JR Kakunodate station.
A main street runs north-south, and there are old samurai houses along the street.
The length is about 800 meters.
Some samurai houses are opened to the public.
Main residences are "Onoda's", "Kawarada's", "Iwahashi's", "Aoyagi's", "Ishiguro's" and so on.
And some remains in the period are in the town.
You can feel the atmosphere of the time of samurai by walking along the street.
And Jinrikisha (Ricksaw) for sightseeing waits for the tourists.
You can enjoy a small guided tour on the Jinrikisha.
(20 - 60 minutes, 3,000 - 9,000 yen)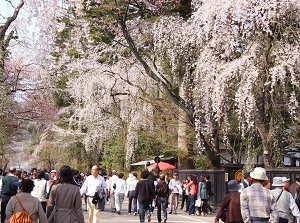 Shidare-zakura in the street of samurai town
Photo by Akita Prefecture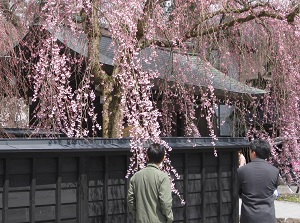 Shidare-zakura in Samurai house
Photo by Akita Prefecture
Along this street, there are a few hundred of Shidare-zakura trees which are the cherry blossom trees that the branches are hanging.
All of this trees are over 300 years old, then 162 trees are designated as the natural monuments in Japan.
The best season of the Shidare-zakura is around the last week of April.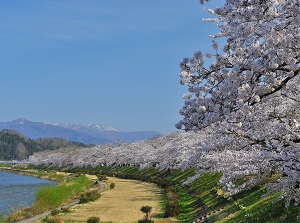 Cherry trees along Hinokinai River
Photo by Akita Prefecture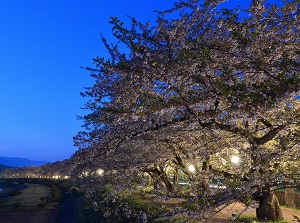 Cherry trees in the evening
Photo by Akita Prefecture
Hinokinai River flows along the west side of this town.
Ten thousand cherry blossom trees are planted along the river.
In late April, these trees put out countless blossoms, then here is one of major cherry blossom-viewing spots.
How to get here
From Tokyo, about 3 hours 10 - 30 minutes.
From Morioka, about 50 - 55 minutes.
From Akita, about 45 minutes.
Other Tourist Attractions in Akita Prefecture